Login
Upcoming Events
Adult Events
20/09/19 - 22/09/19 (3 day event)
18/10/19 - 20/10/19 (3 day event)
Junior Events
01/10/19 - 30/04/20 (213 day event)
20/07/20 - 23/07/20 (4 day event)
Player Search
Recent News
Page 1 of 36
13th September 2019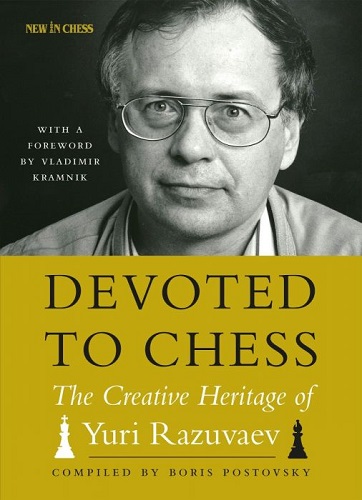 DEVOTED TO CHESS The Creative Heritage of Yuri Razuvaev, compiled by Boris Postovsky, New in Chess, 365 pp., publ. 2019
This is a collection of interviews with, memories of, and articles and games by the well-known Russian GM who, like so many talented individuals, was taken from us far too early at the age of 66 in 2012. Those remembering him include stellar names like Carlsen, Kasparov and Spassky, and there are numerous historical flashbacks to the days of Botvinnik and Smyslov. (Razuvaev rubbed shoulders with all the good and great of Soviet/Russian chess.) The reminiscences paint a picture of a warm, friendly, erudite human being, genuinely interested in others and, as the title says, devoted to the game he loved.
The fifty-two selected games (just under half the book) are crisp and clear, and those annotated by Razuvaev himself often reveal a touching honesty and baring of the soul. This begs the question: since he was obviously a powerful GM, why did he never achieve the very top results? The answer is hinted at by many of those who knew him well: he lacked the killer instinct; too nice and probably interested in too many other things. (Apart from being a GM, Razuvaev was also a history graduate, a theoretician, a writer and trainer of renown, and enjoyed a wide range of interests from football to art. In his later years he was heavily involved with children's chess and the use of chess as an educational tool.)
Devoted to Chess has been put together with love, care and attention. It is a great chess read with lots of insights into Soviet and Russian chess life, and features lots of incidental (or not so incidental!?) good advice. It is presented in a common-sense blend of single column format for text and double column for games and similar-type articles, and is sprinkled with a generous selection of photos. Chess biographies aren't that common, but this is a good 'un.
Recommended.
Ian Marks
September 2019
10th September 2019
1st September 2019
30th August 2019
30th August 2019
20th August 2019
4th August 2019
2nd August 2019
26th July 2019
23rd July 2019
23rd July 2019
23rd July 2019
18th July 2019
17th July 2019
14th July 2019
10th July 2019
7th July 2019
6th July 2019
26th June 2019
26th June 2019