Login
Upcoming Events
Adult Events
25/08/18 - 26/08/18 (2 day event)
07/09/18 - 09/09/18 (3 day event)
29/09/18 - 30/09/18 (2 day event)
19/10/18 - 21/10/18 (3 day event)
Junior Events
21/07/19 - 24/07/19 (4 day event)
20/07/20 - 23/07/20 (4 day event)
Player Search
Recent News
Page 1 of 32
18th August 2018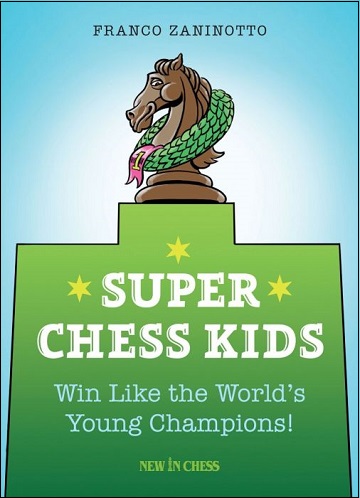 SUPER CHESS KIDS by Franco Zaninotto, 139 pp., publ. New in Chess 2018.
This is a nice little book. The author, an Italian FM and trainer, says that his aim is 'to improve your understanding of the game and your practical skills' (which I guess is the aim of every chess coach). He sets out to do this by divvying his material into two sections, Strategy and Tactics, each of five roughly equal chapters. Leaving aside the tests and solutions (one of each in each section), the topics covered are Weaknesses, Piece Play and Evaluating the position and planning (under Strategy), and Calculation, Attack and Defence under Tactics. Each chapter is around ten pages long, so there's obviously a limit as to how deep he can go. Having said that, a tight page allocation forces the writer to home in on the essentials; there's no room for waffle.
In the chapter on Calculation, for example, the author concentrates on only five positions, in each of which the reader has to identify sensible candidate moves and pick the strongest. The play is then thoroughly dissected – with plenty of words – and key points summarised in black boxes. This is an effective way of getting a point across, and I believe the author does it well. Other chapters follow a similar pattern. It's worth mentioning that the author doesn't just home in on brilliant play, but also draws attention to players' mistakes, and how we can learn from them. As the saying goes, it's good to learn from your mistakes, but even better to learn from other people's.
The Tests and Solutions which I mentioned earlier constitute a large chunk of the book. There are forty strategical test positions and fifty tactical ones. The detailed solutions take up around twenty pages for each section. It may be a slight book, but it is not lacking in focus or content!
Will reading it make you, as the subtitle says Win Like the World's Young Champions!? Probably not, for a couple of reasons: (1) the world's top juniors are coached to within an inch of their precocious young lives, and you're not, and (2) if you're coming at the book as an adult, these kids have probably got thirty years on you. But, hey, who knows?
Overall a very nice book, well produced, which will give enthusiastic youngsters a shove in the right direction and an insight into what is needed to develop their talents to the max, while those of us longer in the tooth can enjoy the play of the new generation and perhaps reflect on what might have been.
Ian Marks
August 2018
***** (more…)
1st August 2018
31st July 2018
31st July 2018
28th July 2018
24th July 2018
22nd July 2018
22nd July 2018
21st July 2018
20th July 2018
19th July 2018
18th July 2018
18th July 2018
18th July 2018
17th July 2018
15th July 2018
15th July 2018
15th July 2018
14th July 2018
12th July 2018