Kathleen Hindle Archive
Kathleen Hindle (formerly Patterson), was a pupil at Bellarmine Secondary School, Glasgow, where her chess skills were encouraged by Gerald Bonner. As a result, she had a number of early successes, including winning Glasgow, Scottish and British Girls' Championships.

Kathleen collected a considerable amount of archive material, which she has kindly shared.

A brief biography for Kathleen can be seen here.

In the beginning...1965

Frontispiece of Commemorative Record

presented to Kathleen Patterson for winning
the first ever Scottish Girls' Championship

Introduction to the Commemorative Record, written by Michael Fallone.

Prizegiving at the 1966 Scottish Championships.
From the left:
Michael Fallone, Nancy Elder, W.P. McColl, President of Dundee Chess Club,
Kathleen Patterson, Gerald Bonner.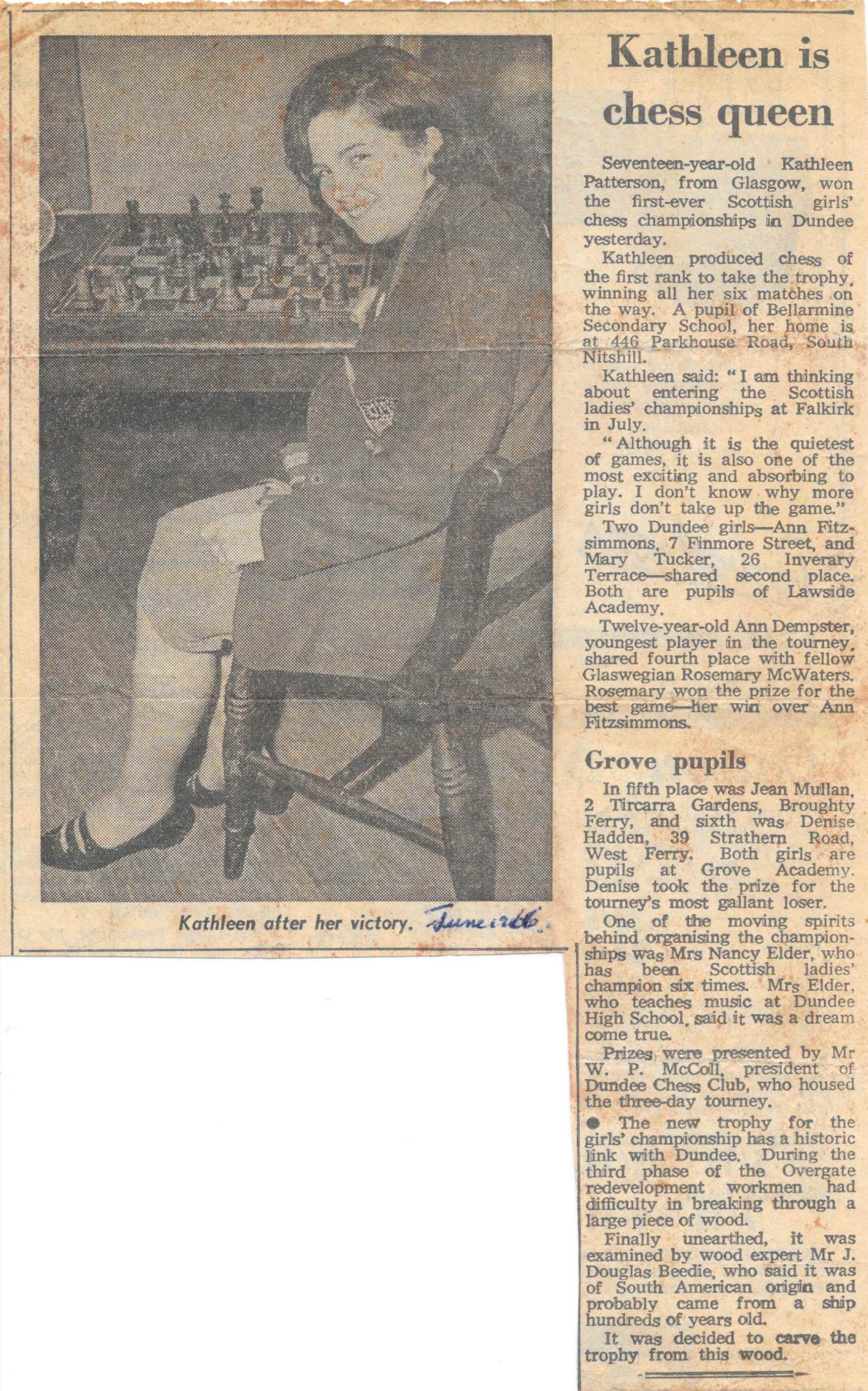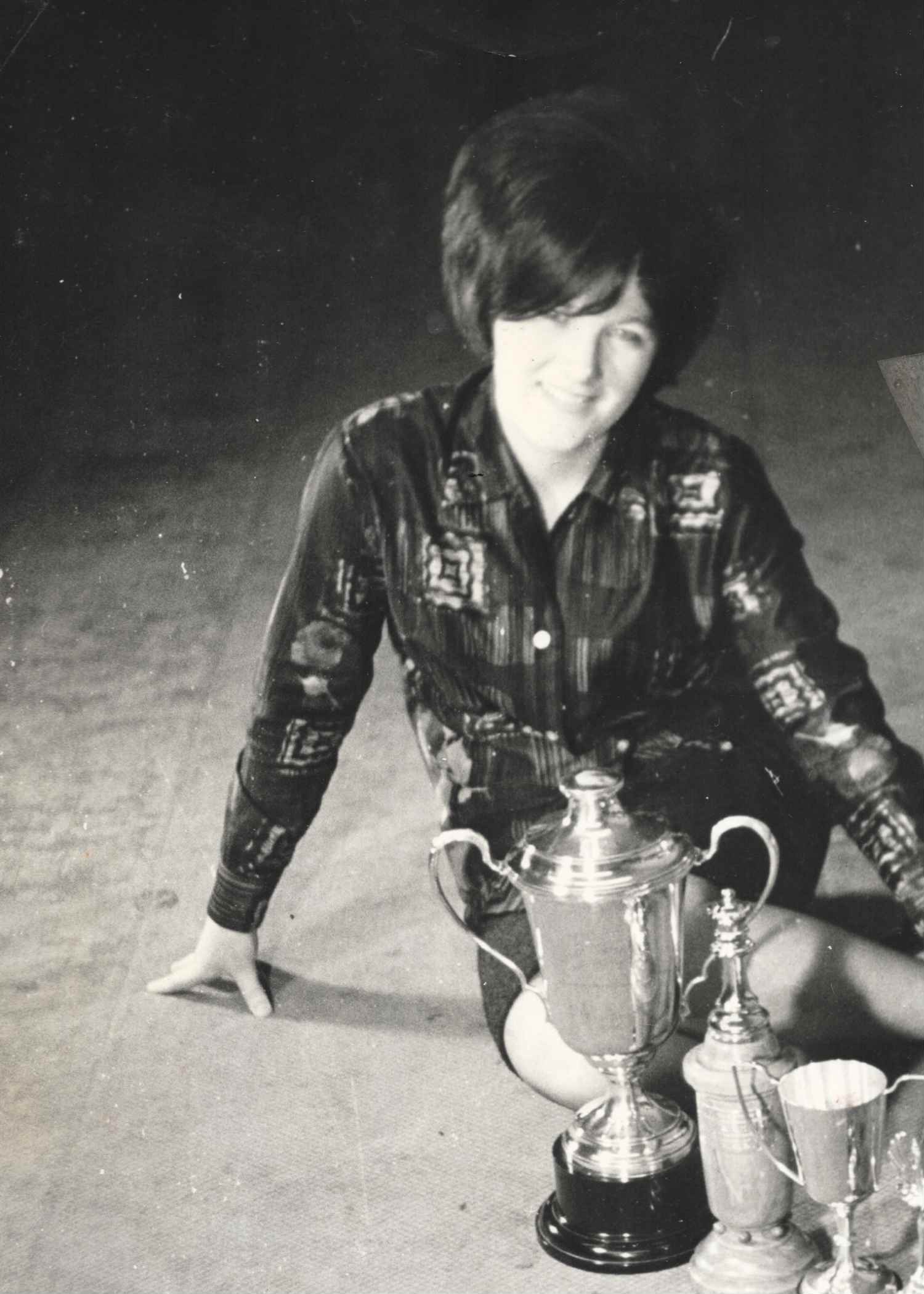 1966:
The largest cup is the Glasgow Girls' Championship trophy, won in the September contest.
The one in front of it is the Scottish Girls' Trophy, won a short time before.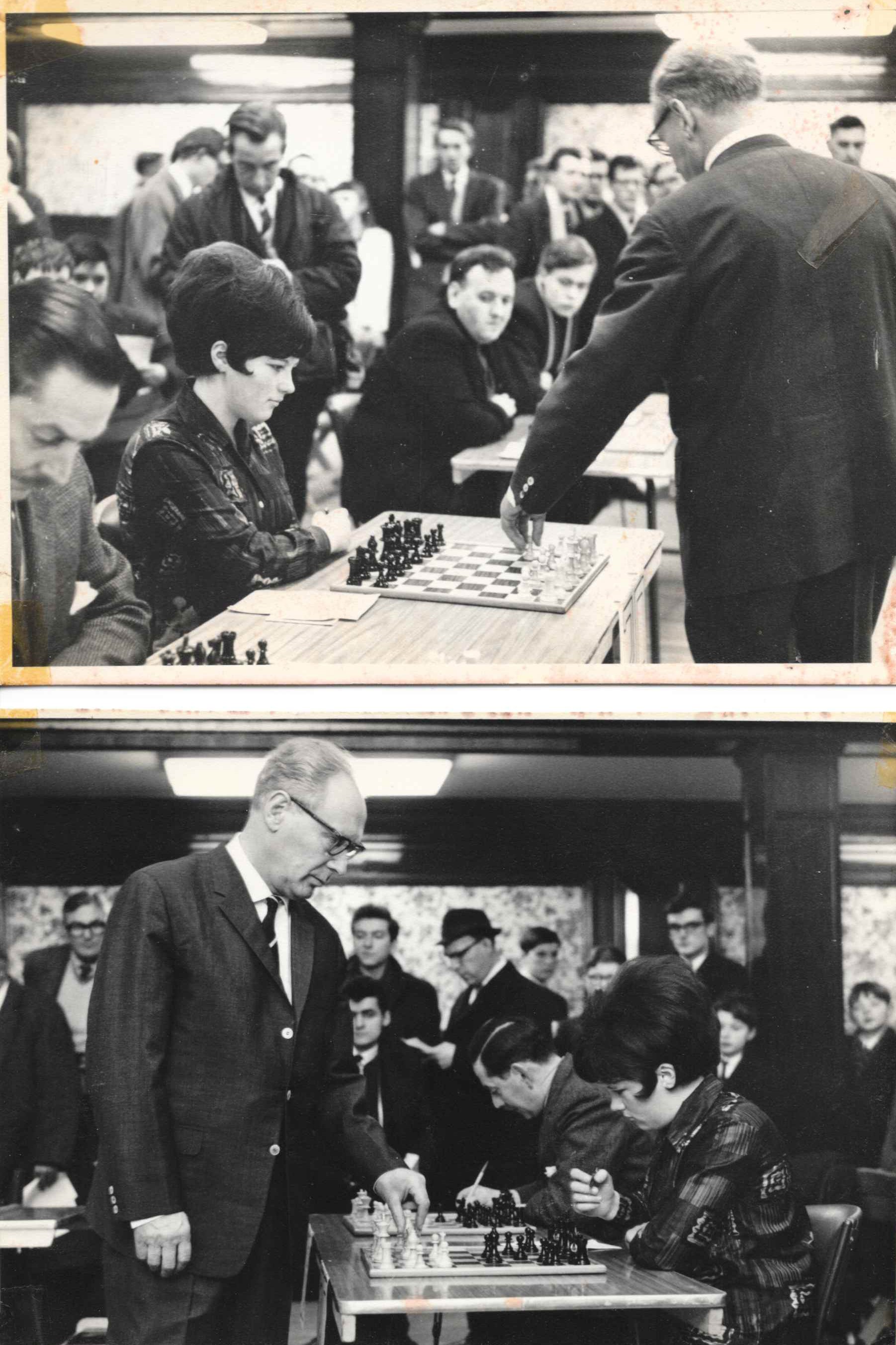 Two photos from Botvinnik's Glasgow simultaneous display in January 1967.
Seated beside Kathleen is Bernard Partirdge. In the top photo, based on the board numbers, the other boards watching Kathleen's game may be I. Russell (Cathcart CC) and E.I. Stevenson (Ayr Academy).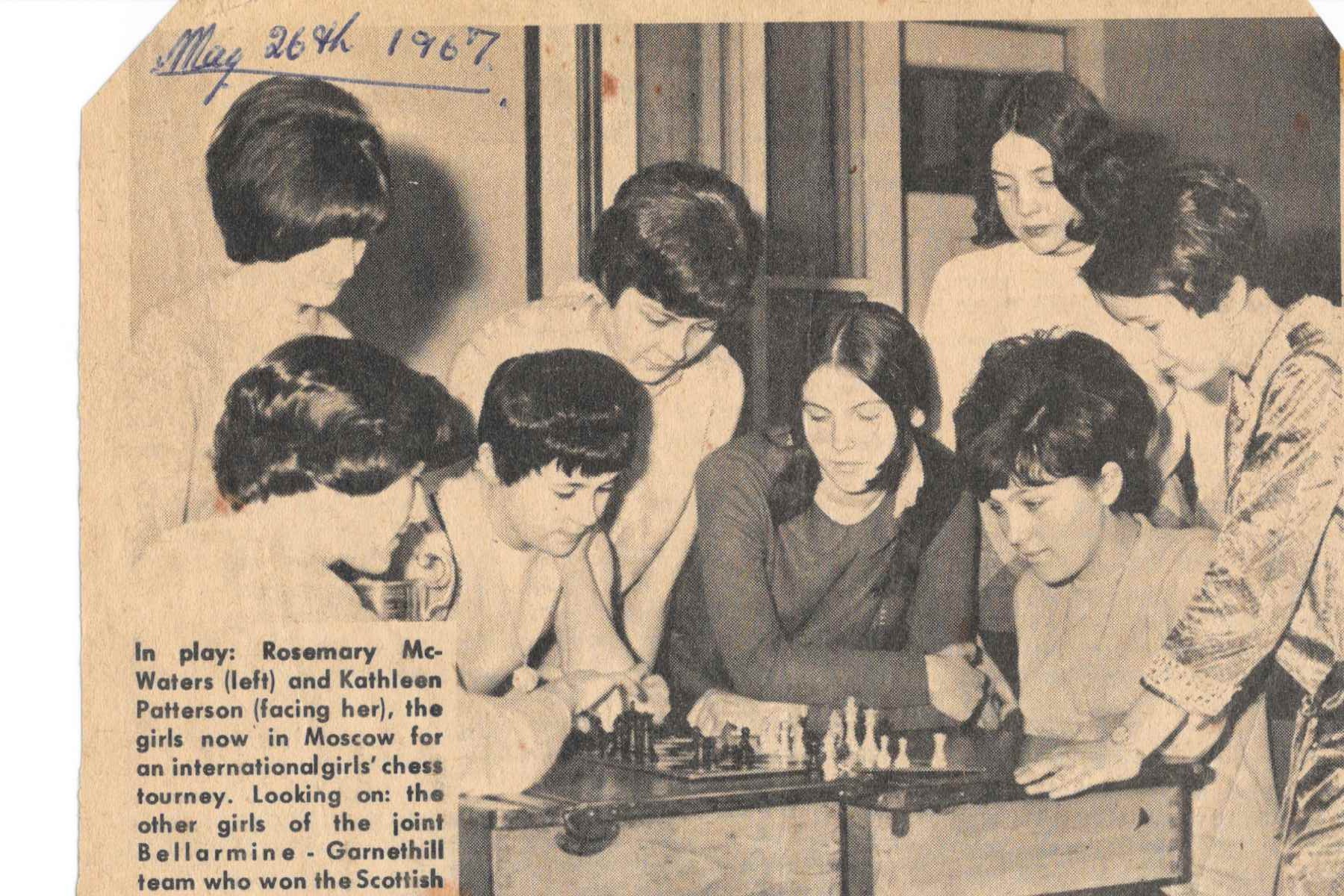 Schoolgirls and former pupils of Bellarmine Secondary School and Garnethill Convent Secondary School, both Glasgow, formed a team that entered for the 1967 Robertson Cup, a competition open to women's clubs. Calling themselves the Caissians, the team conquered the long established Edinburgh and Glasgow Ladies' Chess Clubs to win the trophy.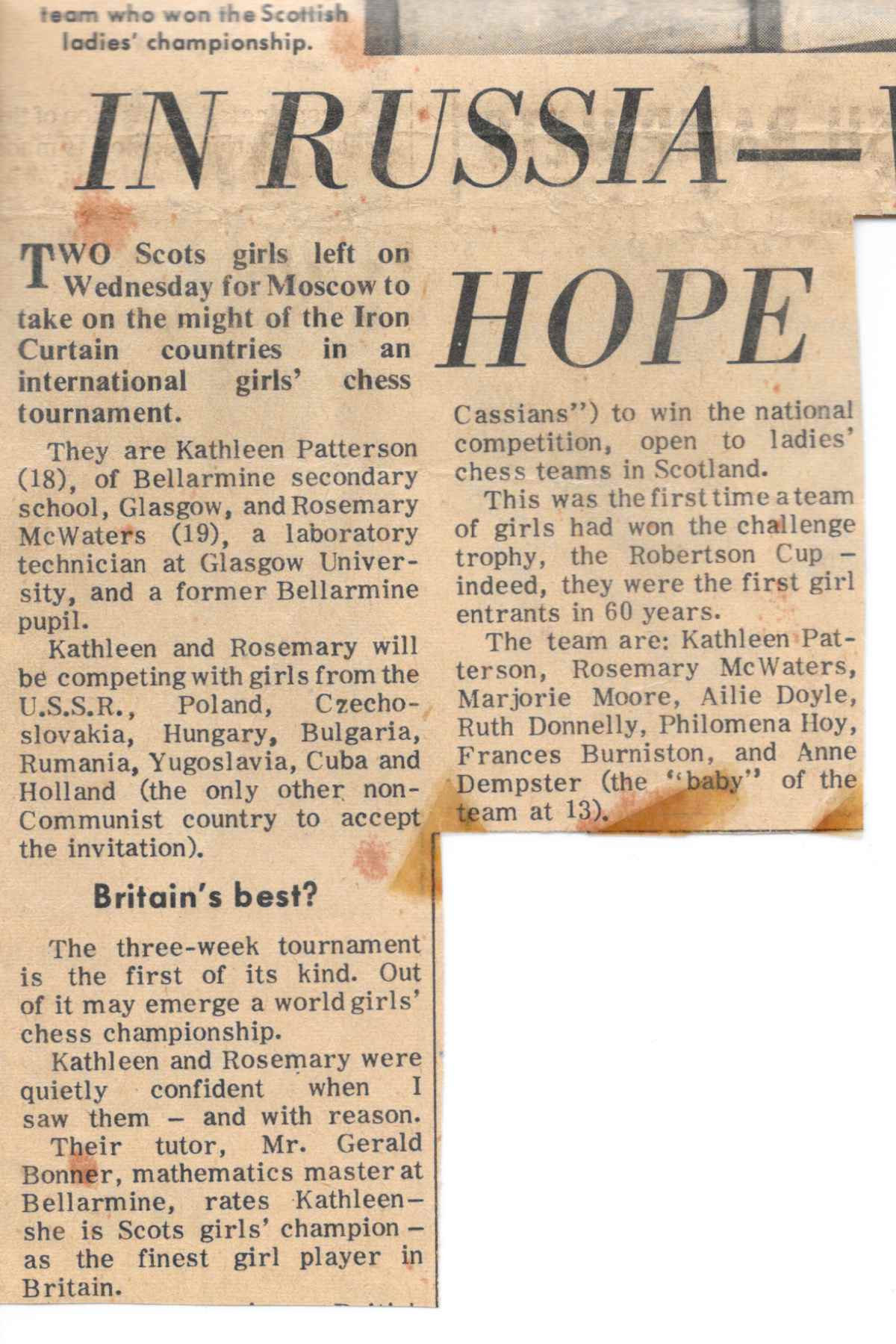 A press report about Kathleen Patterson and Rosemary McWaters planned participation in an international girls' tournament in Lvov, Ukraine. The girls departed on Wednesday, 24 May 1967.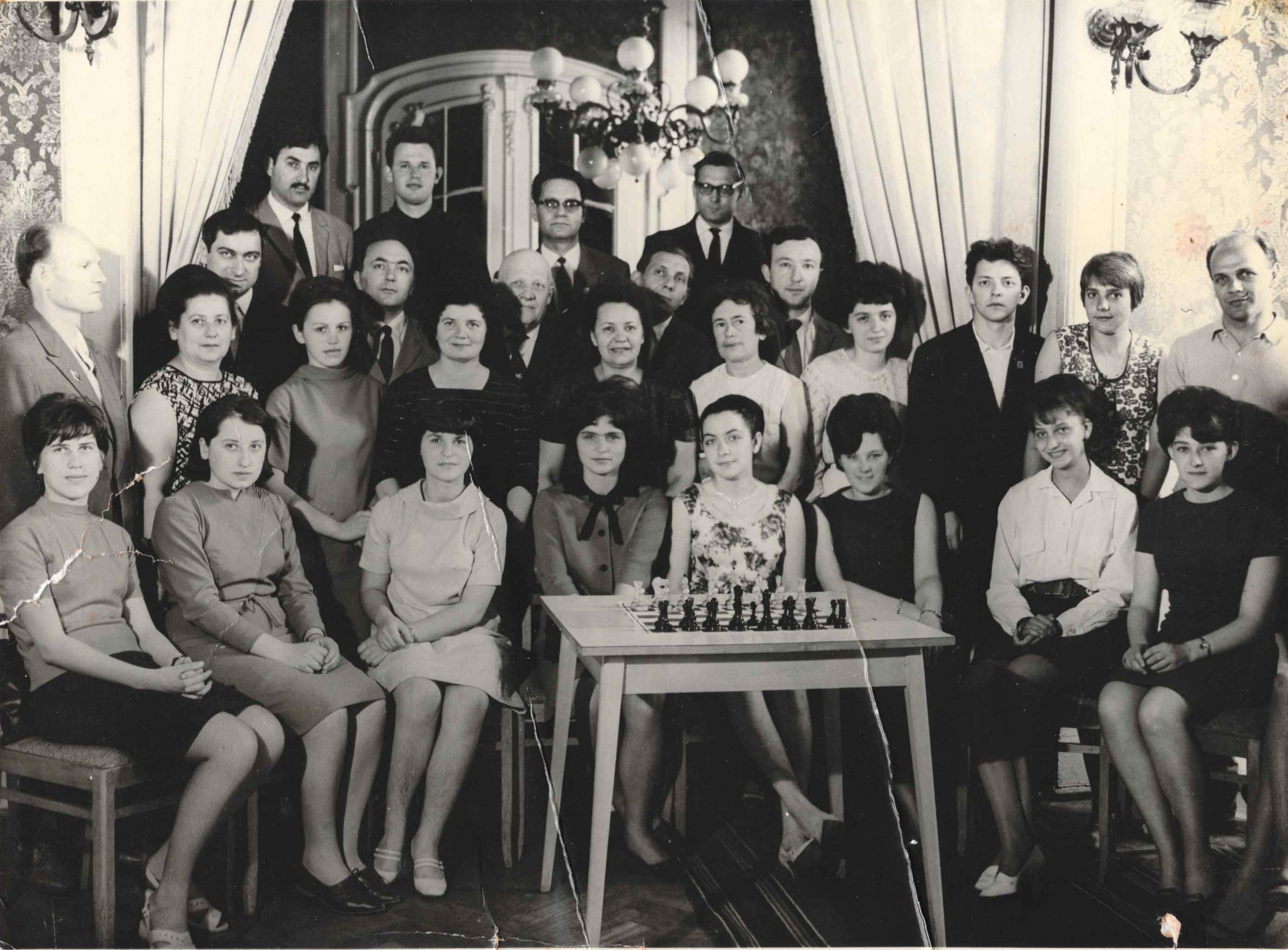 Lvov 1967 group.
Kathleen Patterson is seated front row, third from right.
Rosemary McWaters is seated far right in the front row.
Rosemary was 1st= in the 1966 British Under-18 Girls' Championship,
with Caissians colleague Marjorie Moore, and Julie Dobson.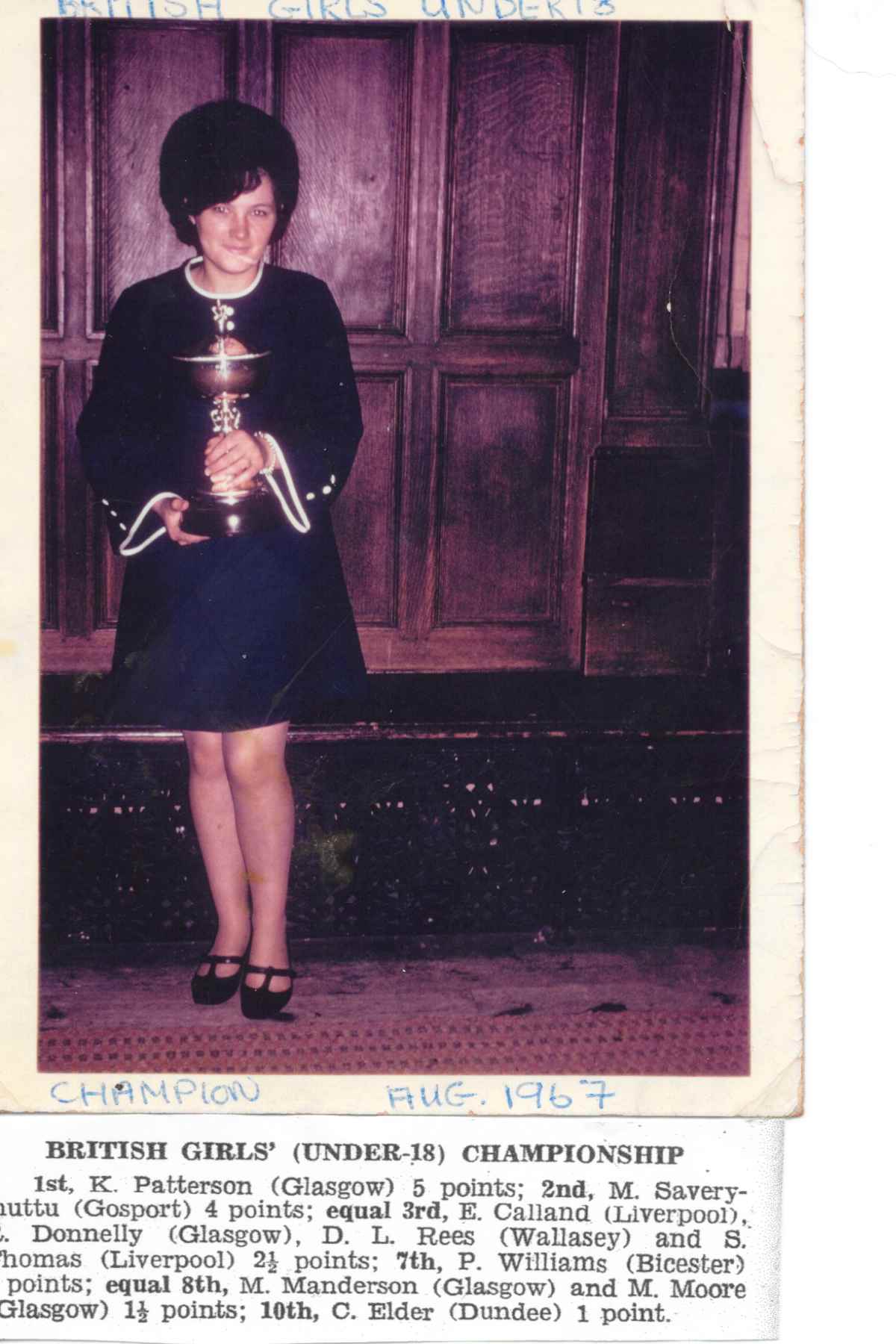 Continuing on from Rosemary McWaters success in 1966, Kathleen Patterson captured the 1967 British Under-18 Girls' Championship outright. Note the other four Scottish participants.

Gerald Bonner, Kathleen's former teacher of chess and maths,

reports on her performance in the 1975 British Ladies' Championship.

Report on the 1975 Scottish Ladies' Championship. Kathleen was 1st equal.

With the 1975 Scottish Ladies' Championship trophy.

Press cuttings about Kathleen, who lived in Cromer, Norfolk,

and her participation in the Haifa 1976 Olympiad.

Haifa Olympiad 1976 - Scotland v Switzerland.
From left: Nancy Elder, Kathleen Hindle, Lynne Houston.


Buenos Aires Olympiad 1978.
From left: Morag McGhee, Nancy Elder, Owen Hindle, Kathleen Hindle and Lynne Houston.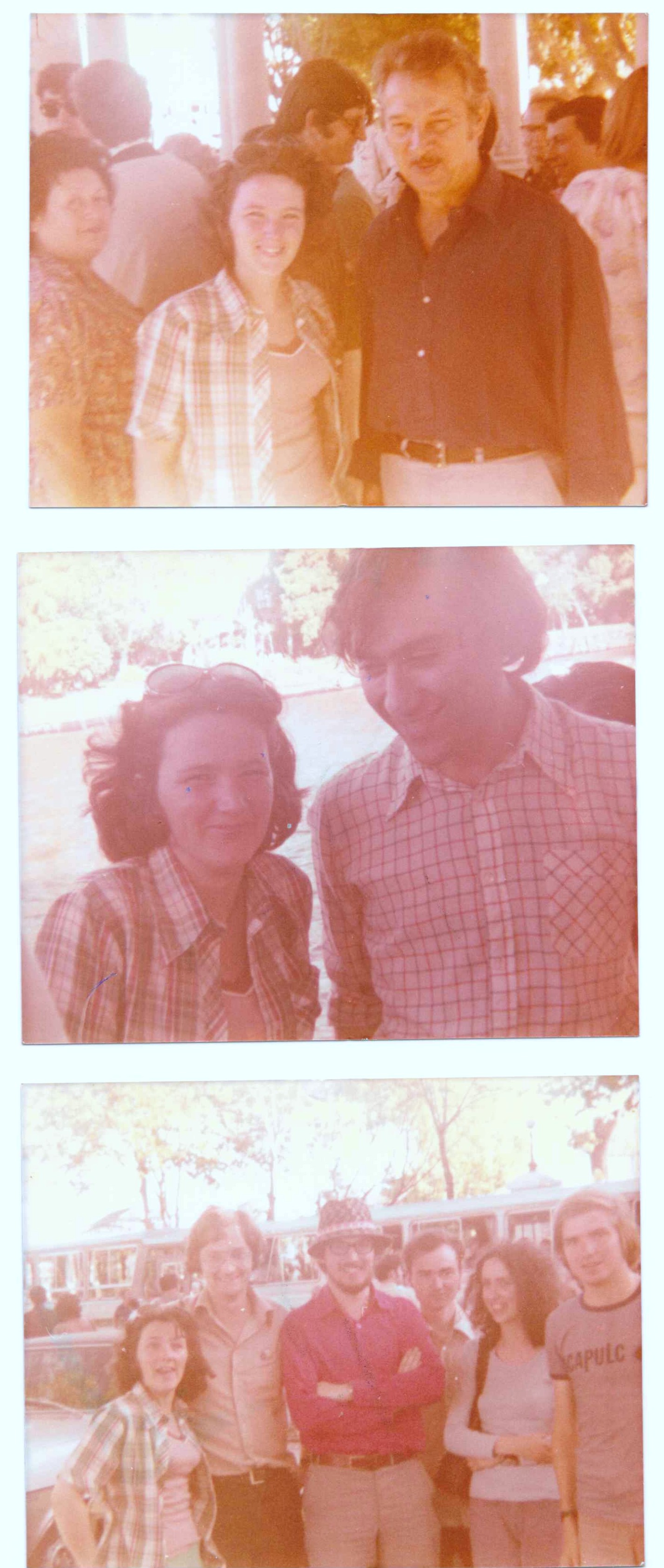 Buenos Aires Olympiad 1978
From the top:
Kathleen with Svetozar Gligorić;
With English team member William Hartston
Left-right: Kathleen, Craig Pritchett, Phil Giulian, Alan Reid, Lynne Houston, Tim Upton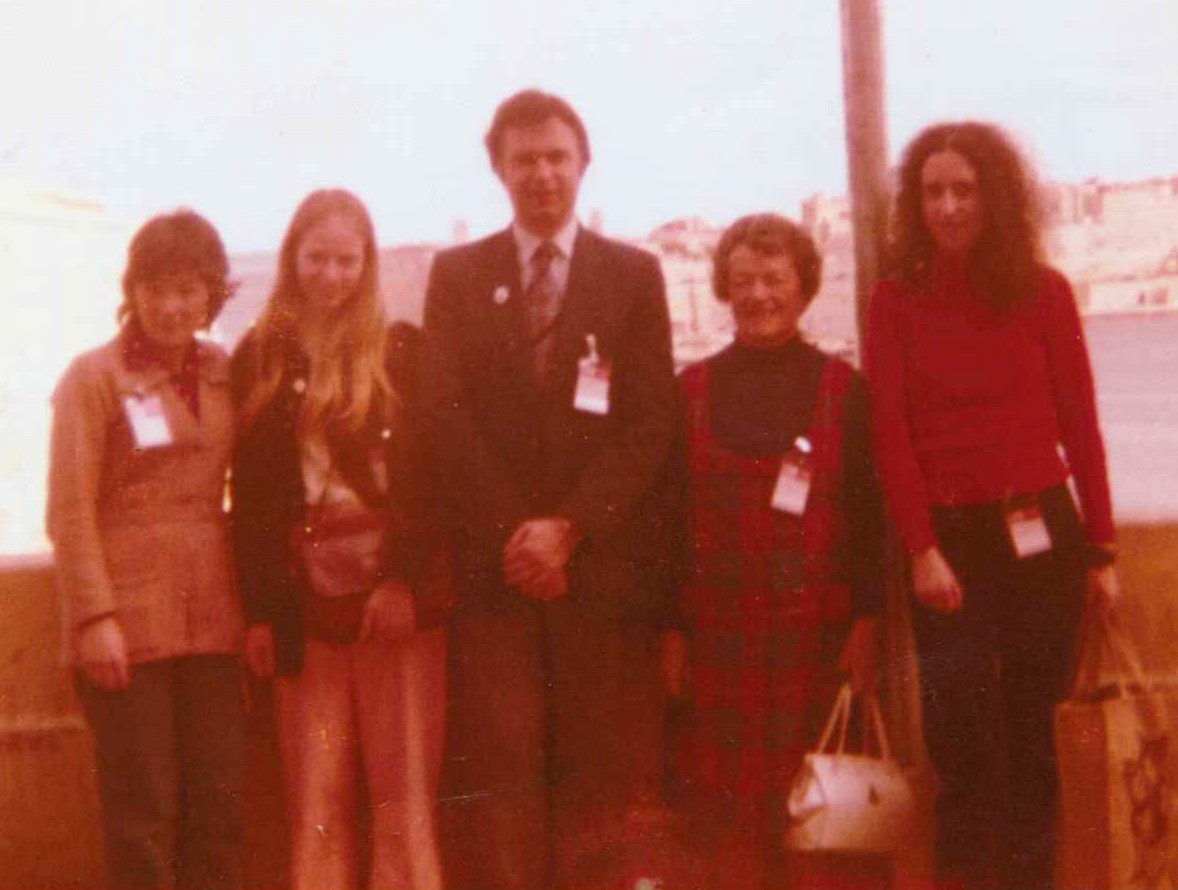 Malta Olympiad 1980
Left-right: Kathleen, Rosie Giulian, Owen Hindle (Team Captain), Nancy Elder, Lynne Houston.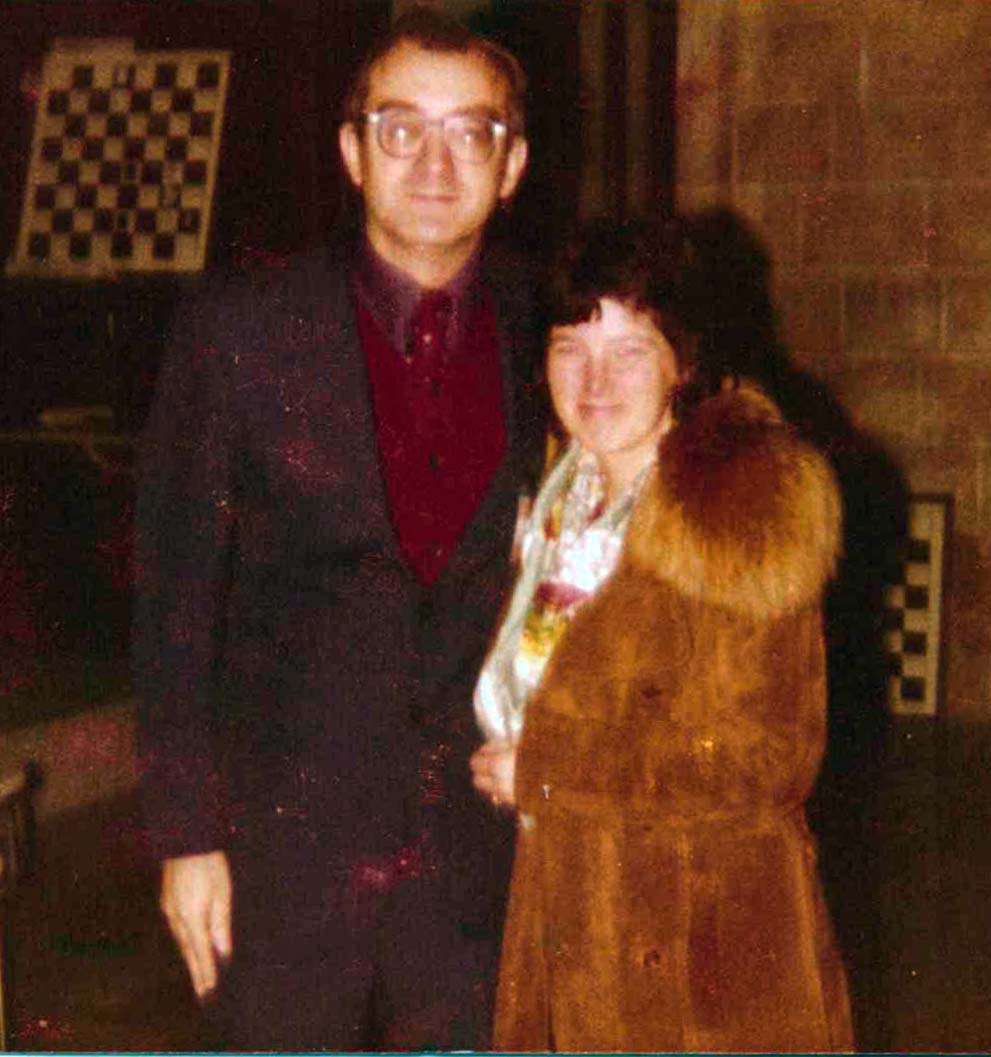 Malta 1980
Kathleen with GM Edmar Mednis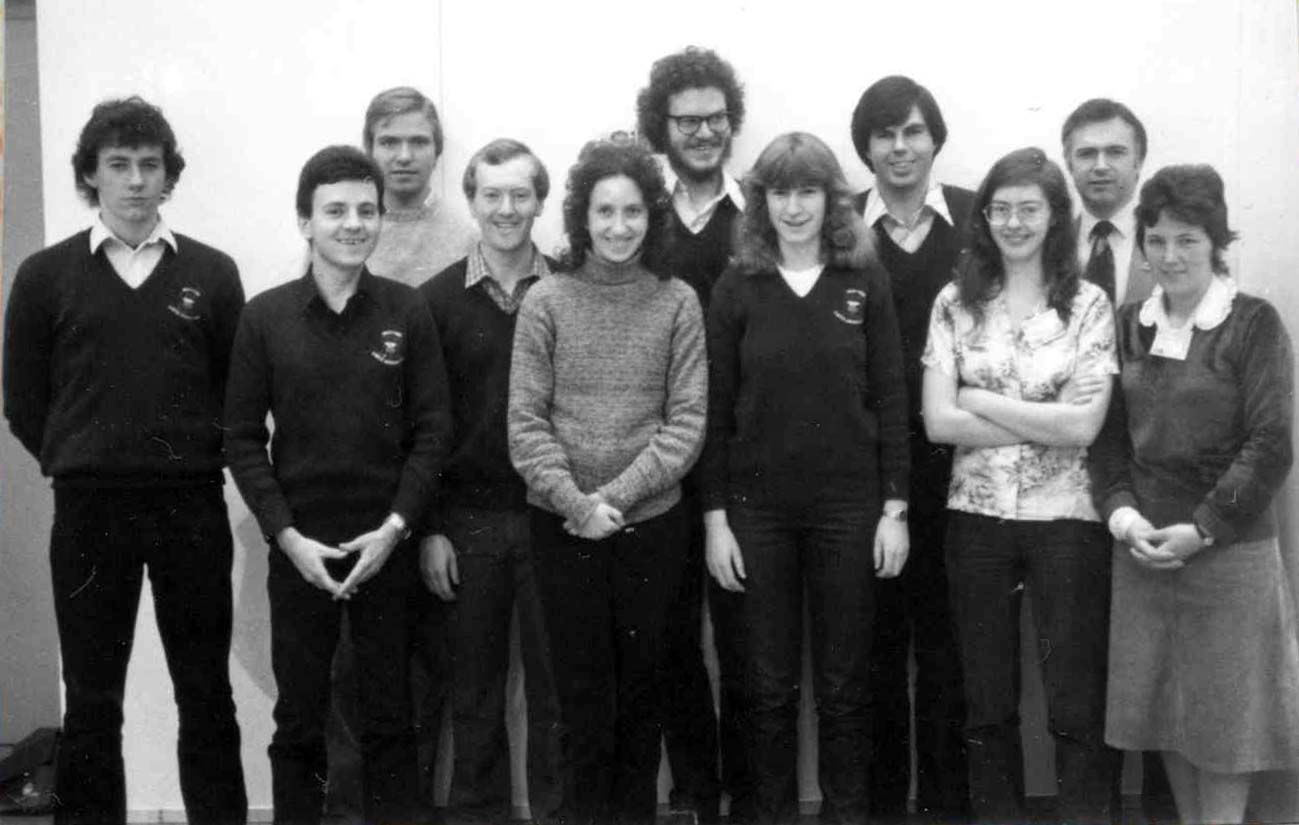 Lucerne Olympiad 1982 teams
From the left:
Mark Condie, Douglas Bryson, Tim Upton, Stephen Swanson, Lynne Morrison (Houston), Colin McNab,
Alison Condie, Roderick McKay, Helen Milligan (Scott), Owen Hindle (Ladies' Team Captain), Kathleen Hindle.

Lucerne Olympiad 1982 - Scotland v Argentina
From the front: Helen Milligan, Alison Condie, Kathleen Hindle

Compiled by Alan McGowan

Updated 20/12/2018