Francis Percival Wenman
06 May 1891, Croydon- 19 March 1972, Cardiff
Often referred to as Percy Wenman, or P. Wenman.
Associated with chess in Scotland from after arriving from London 1911 and joining the Glasgow Chess Club. During his time there he played several matches against leading club players, defeating William Gibson (+7 =5 -5) and James McKee (+5-3), but losing to Carrick Wardhaugh (+0 =2 -3).

Later, he would also be associated with the Edinburgh and Dundee Clubs, winning the championship of the latter in 1916.

Wenman was Scottish Champion 1920, after winning a play-off match of three games against W. Gibson.

He played in several other championships: the 1912 tournament resulted in a triple tie with W. Gibson and E. Macdonald, Gibson winning that play-off; 1914, 1915, another triple tie, this time with with Wardhaugh and Handasyde, with Wardhaugh winning. In 1921 and 1922 Wenman finished one point behind Gibson each time.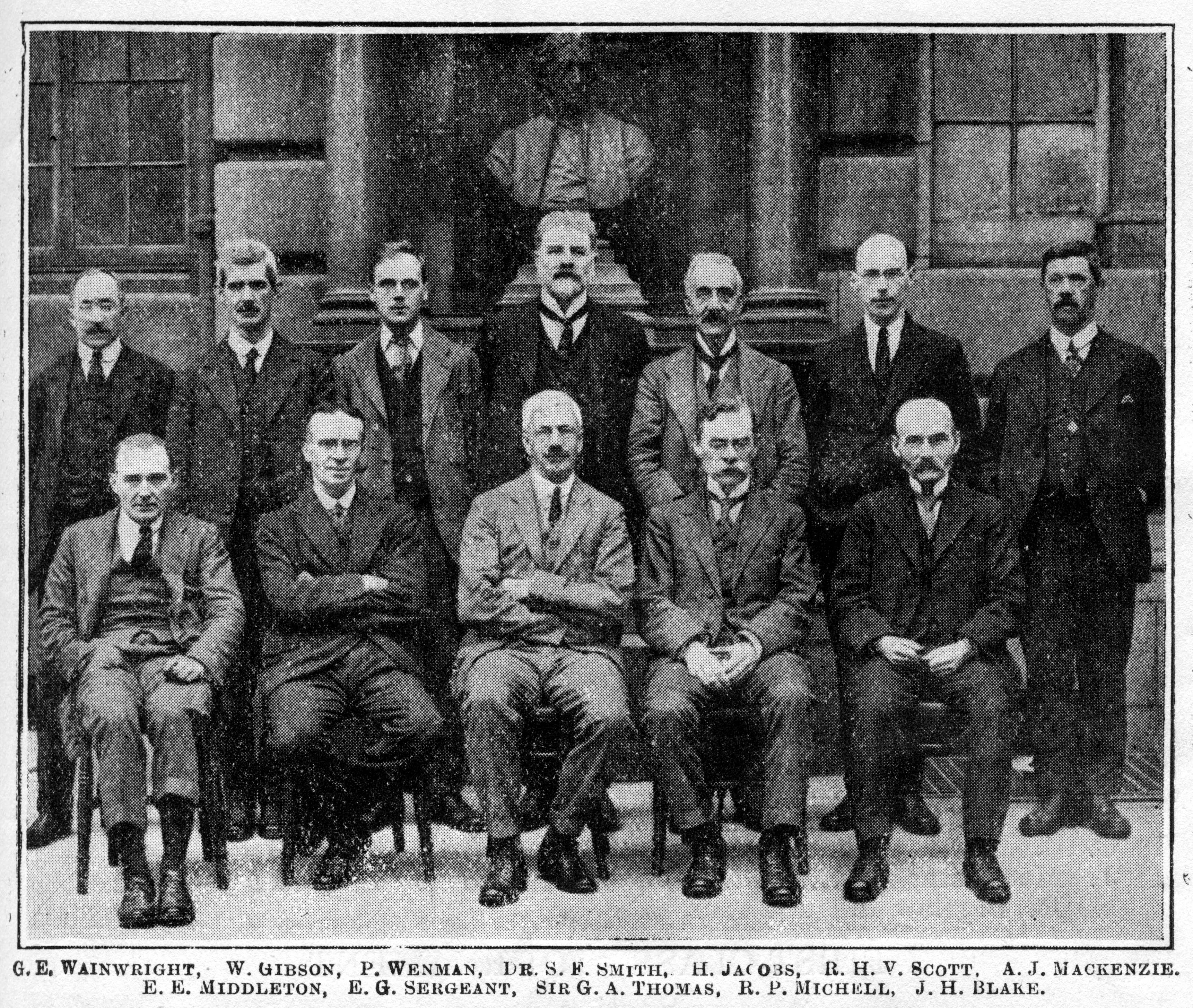 This photo shows the contestants in the 1920 British Championship, held in Edinburgh. Wenman is standing third from the left. He had shortly before won the Scottish Championship after a play-off with William Gibson, who is standing second from left.

In the Richardson Cup competition Wenman represented several different teams. He played for Glasgow CC (board 2) in their defeat of Edinburgh in the Richardson Cup 1912. In the 1913 Richardson he played board one for Bohemian CC (Glasgow) in the team that lost to Glasgow. In 1914 he was in the Central CC (Glasgow) team that won against Glasgow, Wenman defeating William Gibson on board one. By 1921 he was playing for Edinburgh CC team that lost to Glasgow, though Wenman defeated J.A. McKee on the top board.

Wenman would shortly after (1922) move to Yorkshire. He later authored or edited many chess books, with a number of them concerning chess problems. He was accused of plagiarism in this regard, a detailed analysis of which can be found in Edward Winter's Chess Notes web site.

Wenman continued to play club, county and tournament chess in England and numerous references can be found in this regard.

Alan McGowan
Historian, Chess Scotland