Login
Upcoming Events
Adult Events
01/06/22 - 05/06/22 (5 day event)
02/06/22 - 05/06/22 (4 day event)
03/06/22 - 05/06/22 (3 day event)
01/07/22 - 03/07/22 (3 day event)
Junior Events
02/06/22 - 05/06/22 (4 day event)
World Youth – Brazil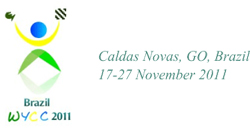 The World Youth Championships took place in Caldas Novas, Goias, Brazil from 17-27 November 2011.
Scotlands players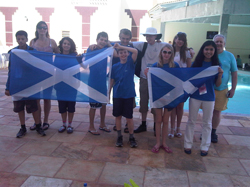 Colin Howie U-12 Open - 3.5/9
Anna Milton U-12 Girls - 3.5/9
Kiron Roy U-14 Open - 2.5/9
Cristina Espinosa U-14 Girls - 3.5/9
Ian McDonald U-16 Open - 3.5/9
Ali Roy U-16 Girls - 4.5/9
Hamish Olsen U-18 Open - 5/9
Andrew Newton U-18 Open - 3/9
Maryann McDonald U-18 Girls - 3/9
Preview by Paul MacDonald: The World Youth Championships takes place in the Brazilian tourist resort of Caldas Novas, between 17th and 27th of November.
Scotland are represented by Hamish Olson and Andrew Newton in the under-18 Open event and Maryann McDonald in the under-18 Girls.
Maryann's brother Ian McDonald plays in the under-16 Open, whilst Ali Roy is in the under-16 Girls competition.
At under-14 level, Kiron Roy plays in the Open, whilst Cristina Espinosa is in the under-14 Girls.
Our youngest team members are Colin Howie in the under-12 Open and Anna Milton in the under-12 Girls.
The team will be supported by Head of Delegation, Angus McDonald, who has worked extremely hard in setting up online training to prepare the squad for this event and has been going pretty much non-stop in sorting out the numerous administrative tasks which an event of this nature requires. Amongst Angus's many talents, he is a fluent Portuguese speaker, which is bound to be of great use in such an exotic location.
I'm sure that all Chessscotland members will wish our squad all the best and that many will follow their games and results with huge interest.
Follow the event here at the official website (in English) http://www.wycc2011.com/
Paul MacDonald
International Junior Chess Director Chessscotland
Post Information
Posted on: 28-11-2011
Categories: Junior News, News