Login
Upcoming Events
Adult Events
01/07/22 - 03/07/22 (3 day event)
02/07/22 - 10/07/22 (9 day event)
15/07/22 - 17/07/22 (3 day event)
Junior Events
01/07/22 - 02/07/22 (2 day event)
18/07/22 - 21/07/22 (4 day event)
World Senior 2015 – Italy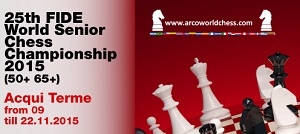 The World Senior Championship takes place in Acqui Terme, Italy, November 9-22.
Website http://www.scaccomattissimo.it/seniores2015/
FANTASTIC FRIDAY THE 13TH
Roddy McKay and Craig Pritchett go into Saturday's round 5 matches with 100% records and jointly leading their respective sections.
In the +50 Open section Roddy has a Saturday showdown with Lithuanian GM Eduardas Rozentalis, while Craig takes on the 2011 World Seniors Champion, French Grandmaster Vladimir Okhotnik, in the +65 Open. Both games have live, top board billing and start at 2pm UK time.
Will it be a Super Scottish Saturday?
Post Information
Posted on: 13-11-2015
Categories: News