Login
Upcoming Events
Adult Events
01/06/22 - 05/06/22 (5 day event)
02/06/22 - 05/06/22 (4 day event)
03/06/22 - 05/06/22 (3 day event)
01/07/22 - 03/07/22 (3 day event)
Junior Events
02/06/22 - 05/06/22 (4 day event)
World Chess Championship 2021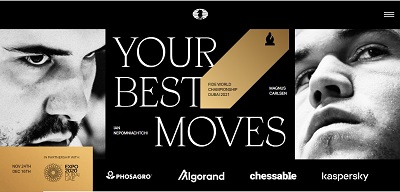 Dec 10: Magnus Carlsen retained his world title with three games to spare. He won games 6,8,9 and 11 to crush challenger Ian Nepomniachtchi by 7.5-3.5 in the 14 game contest. The match had seemed evenly balanced until the marathon 6th game after which the Russian's playing level declined. 
The World Chess Championship takes place in Dubai,UAE November 24 - December 16 2021. The match was postponed from late 2020 due to the covid situation.
Watch Live:
https://chess24.com/en/watch/live-tournaments/carlsen-nepomniachtchi-world-chess-championship-2021/1/1/11
https://en.chessbase.com/post/world-championship-2021-live
https://www.theguardian.com/sport/world-chess-championship-2021
Reigning champion Magnus Carlsen (Norway) defends his title against Ian Nepomniachtchi (Russia). (The challenger will compete under the FIDE flag due to WADA sanctions against Russia.)
Carlsen defeated Vishy Anand (India) in 2013 to win the world championship and successfully defended his title against the same opponent the following year. Carlsen also recorded successful title defences against GM Sergey Karjakin (Russia) in 2016, and Fabiano Caruana (USA) in 2018.
Match format: best of 14 games with tie-breaks to follow if tied.
Time control: The time control is 120 minutes for the first 40 moves, followed by 60 minutes for the next 20 moves and then 15 minutes for the rest of the game with an increment of 30 seconds per move starting from move 61.
Prize Fund: The prize fund will be $2 million euros. The winner will earn 60 percent of the prize fund, and 40 percent will go to the runner-up. If the match ends in a tie after 14 games the winner of the tie-break receives 55 percent and the runner-up 45 percent.
Venue: Dubai Exhibition Centre
Arbiters: Scotland's Andy Howie is Deputy Chief Arbiter.
Official website: https://fideworldchampionship.com/
*****
Match Schedule (UK start times)
Nov 24: Opening ceremony/technical meeting
Nov 25: Media day
Nov 26: Game 1 12:30
Nov 27: Game 2 12:30
Nov 28: Game 3 12:30
Nov 29: Free day
Nov 30: Game 4 12:30
Dec 01:  Game 5 12:30
Dec 02: Free day
Dec 03: Game 6 12:30
Dec 04: Game 7 12:30
Dec 05: Game 8 12:30
Dec 06: Free day
Dec 07: Game 9 12:30
Dec 08: Game 10 12:30
Dec 09: Free day
Dec 10: Game 11 12:30
Dec 11:  Game 12 12:30
Dec 12: Game 13 12:30
Dec 13: Free day
Dec 14: Game 14 12:30
Dec 15: Tiebreak or closing ceremony 12:30
Dec 16: Closing ceremony in case of a tiebreak 16:00
Post Information
Posted on: 10-12-2021
Categories: News