Login
Upcoming Events
Adult Events
01/06/22 - 05/06/22 (5 day event)
02/06/22 - 05/06/22 (4 day event)
03/06/22 - 05/06/22 (3 day event)
01/07/22 - 03/07/22 (3 day event)
Junior Events
02/06/22 - 05/06/22 (4 day event)
World Championship – Carlsen v Karjakin
Nov 30: Magnus Carlsen wins the tie-break rapidplay 3-1 to retain his world title, finishing in style with a queen sac to force mate.
The match was drawn 6-6 after the first 12 games - one win each, rest drawn. Tie-breaks took place on Wednesday, November 30 (Carlsen's 26th birthday).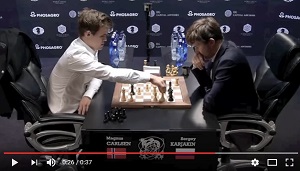 Intro: Magnus Carlsen of Norway defends his world title against Sergey Karjakin of Russia in New York, November 11-30.  The match takes place in the Fulton Market building in Lower Manhattan.
Match Schedule and Chessbase reports: 
Friday 11: Game 1
Saturday 12: Game 2
Monday 14: Game 3
Tuesday 15: Game 4
Thursday 17: Game 5
Friday 18: Game 6
Sunday 20: Game 7
Monday 21: Game 8
Wednesday 23: Game 9
Thursday 24: Game 10
Saturday 26: Game 11
Monday 28: Game 12
Wednesday 30: Tie Breaks
Tie Break format
1) A four-game match with 25 minutes + 10-second increment rapid games
2) If the scores are equal, then a maximum of five mini-matches of two blitz games at 5 minutes + a 3-second increment
3) Only if those 14 games have proved indecisive will we get a World Championship decided in an Armageddon game, where White has 5 minutes to Black's 4, but a draw will make the player with Black the World Champion.
Post Information
Posted on: 30-11-2016
Categories: News