Login
Upcoming Events
Adult Events
01/07/22 - 03/07/22 (3 day event)
02/07/22 - 10/07/22 (9 day event)
15/07/22 - 17/07/22 (3 day event)
Junior Events
01/07/22 - 02/07/22 (2 day event)
18/07/22 - 21/07/22 (4 day event)
World Championship – Anand v Carlsen – Carlsen is Champion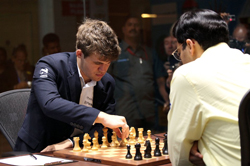 Nov 22: Magnus Carlsen, the 22-year-old Norwegian, is the new world chess champion. He drew the 10th game (start game picture right) of his match against Vishy Anand of India to take an unassailable 6.5-3.5 lead.
 *****
Preview: The long awaited Vishy Anand (India) v Magnus Carlsen (Norway) world title match takes place in Chennai, India from November 6-27, 2013. Games start 3pm Indian time - 9.30am UK. Official website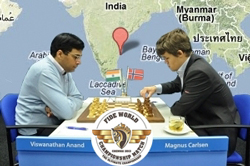 09.11.2013 Game 1
10.11..2013 Game 2
11.11.2013 Rest Day
12.11.2013 Game 3
13.11.2013 Game 4
14.11.2013 Rest Day
15.11.2013 Game 5
16.11.2013 Game 6
17.11.2013 Rest Day
18.11.2013 Game 7
19.11.2013 Game 8
20.11.2013 Rest Day
21.11.2013 Game 9
22.11.2013 Game 10
23.11.2013 Rest Day
24.11.2013 Game 11
25.11.2013 Rest Day
26.11.2013 Game 12
27.11.2013 Rest Day
Garry Kasparov thinks Carlsen will win.
"Anand is a fantastic chessplayer who brings honor to the sport and to his nation with his skill and his boundless good nature. If he wins this match his high place on chess Olympus is assured. I am predicting a Carlsen victory because of his talent, his results, and the tides of chess history. I am rooting for a Carlsen victory because a new generation deserves a new champion. Most of all, I am hoping for big games, a hard fight, and a great boost for chess around the world as a legend and a legend in the making do battle in Chennai. Full article
*****
Nigel Short thinks the age gap will count against Anand.
"Firstly, the most obvious point is that, at nearly 44, Anand is no longer a spring chicken. In chess terms, he could be considered a veritable dinosaur (incidentally, your 48 year-old writer is the oldest player in the top 100). Concentration wavers in middle-age in a manner if does not when you are in your physical prime. One lapse and you are on your way back to the pavilion. Secondly, motivation sags over time. When you have already achieved everything you could wish for professionally and you have as much money as you need for a good life, other things become more important — particularly when you have a young child. Success in all sport requires sacrifice and pain: most people tire of it eventually" Full article
*****
World no.1 Magnus Carlsen had been unhappy that FIDE, the world chess federation, awarded the title match with world champion Vishy Anand to Chennai, the Indian's home town. The 12 game match will be played from November 6-27.  Carlsen commented: "I'm deeply disappointed and surprised by the FIDE decision to sign a contract for the 2013 match without going through the bidding process outlined in the regulations, and for not choosing neutral ground."
The locals in Chennai joke there are three seasons – hot, hotter and hottest. The city of 5 million, formerly known as Madras, is the capital of the state of Tamil Nadu in the south-east of India. November- February is considered the best time to visit although November is the peak time for rain. Carlsen's hot reception will extend to the food which is even more spicy than the north. This will be the first time that Anand has been able to defend his title on home soil although a fanatical support and the burden of expectation may reduce the plus points.
Challenger Carslen is a big favourite in the betting markets.
Regulations
The World Chess Championship Match 2013 will consist of 12 games and if necessary, tie-break games. The draw for colors will be conducted during the opening ceremony. The colors shall be reversed after game 6. (The player getting the white color in game 1 shall play game 7 with the black color).
The time control for each game shall be: 120 minutes for the first 40 moves, 60 minutes for the next 20 moves and then 15 minutes for the rest of the game with an increment of 30 seconds per move starting after move 61 has been made.
If the scores are level after the regular twelve (12) games, after a new drawing of colors, four (4) tie-break games shall be played. The games shall be played using the electronic clock starting with 25 minutes for each player with an increment of 10 seconds after each move. If the scores are level after this, then, after a new drawing of colors, a match of 2 games shall be played with a time control of 5 minutes plus 3 seconds increment after each move. In case of a level score, another 2-game match will be played to determine a winner. If still there is no winner after 5 such matches (total 10 games), one sudden-death game will be played. The player who wins the drawing of lots may choose the color. The player with the white pieces shall receive 5 minutes, the  player with the black pieces shall receive 4 minutes whereupon, after the 60th move, both players shall receive an increment of 3 seconds starting from move 61. In case of a draw the player with the black pieces is declared the winner.
Post Information
Posted on: 22-11-2013
Categories: News