Login
Upcoming Events
Adult Events
01/06/22 - 05/06/22 (5 day event)
02/06/22 - 05/06/22 (4 day event)
03/06/22 - 05/06/22 (3 day event)
01/07/22 - 03/07/22 (3 day event)
Junior Events
02/06/22 - 05/06/22 (4 day event)
World Championship 2018 – Carlsen v Caruana
The World Championship took place in London, November 8-28 2018.
Nov 28: Carlsen retained his title by crushing challenger Caruana 3-0 in the Rapid tie-breaks after the main match had finished 6-6 with all games drawn.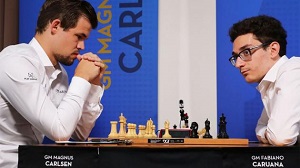 Reigning champion Magnus Carlsen (Norway) defends his title against Fabiano Caruana (USA). The match pits world no.1 Carlsen against 2nd player in the rating list Caruana.
Match format: best of 12 games with tie-breaks to follow if tied.
Start time: All games start 3pm.
Time control: 40 moves in 100 minutes, next 20 moves in 50 minutes, 15 minutes for rest of game - plus a 30 second increment from move 1.
Draws: No draws by agreement before Black's 30th.
Venue: The match venue is The College in Holborn, London.
Chess 24 - Svidler/Grischuk commentary
Match Schedule
    Thursday  November 8: Press conference & Opening Ceremony
    Friday    November 9  Game 1
    Saturday  November 10 Game 2

    Monday    November 12 Game 3
    Tuesday   November 13 Game 4

    Thursday  November 15 Game 5
    Friday    November 16 Game 6

    Sunday    November 18 Game 7
    Monday    November 19 Game 8

    Wednesday November 21 Game 9
    Thursday  November 22 Game 10

    Saturday  November 24 Game 11

    Monday    November 26 Game 12

    Wednesday November 28 Tiebreaks/Closing Ceremony
Post Information
Posted on: 28-11-2018
Categories: News