Login
Upcoming Events
Adult Events
08/12/18 - 09/12/18 (2 day event)
19/01/19 - 20/01/19 (2 day event)
Junior Events
21/07/19 - 24/07/19 (4 day event)
20/07/20 - 23/07/20 (4 day event)
Player Search
World Championship 2018 – Carlsen v Caruana
The World Championship takes place in London, November 8-28 2018.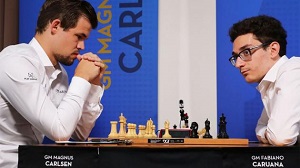 Reigning champion Magnus Carlsen (Norway) defends his title against Fabiano Caruana (USA). The match pits world no.1 Carlsen against 2nd player in the rating list Caruana.
Match format: best of 12 games with tie-breaks to follow if tied.
Start time: All games start 3pm.
Time control: 40 moves in 100 minutes, next 20 moves in 50 minutes, 15 minutes for rest of game - plus a 30 second increment from move 1.
Draws: No draws by agreement before Black's 30th.
Venue: The match venue is The College in Holborn, London.
Chess 24 - Svidler/Grischuk commentary
Match Schedule
    Thursday  November 8: Press conference & Opening Ceremony
    Friday    November 9  Game 1
    Saturday  November 10 Game 2

    Monday    November 12 Game 3
    Tuesday   November 13 Game 4

    Thursday  November 15 Game 5
    Friday    November 16 Game 6

    Sunday    November 18 Game 7
    Monday    November 19 Game 8

    Wednesday November 21 Game 9
    Thursday  November 22 Game 10

    Saturday  November 24 Game 11

    Monday    November 26 Game 12

    Wednesday November 28 Tiebreaks/Closing Ceremony
Post Information
Posted on: 08-11-2018
Categories: News