Login
Upcoming Events
Adult Events
01/06/22 - 05/06/22 (5 day event)
02/06/22 - 05/06/22 (4 day event)
03/06/22 - 05/06/22 (3 day event)
01/07/22 - 03/07/22 (3 day event)
Junior Events
02/06/22 - 05/06/22 (4 day event)
Topalov simul in Edinburgh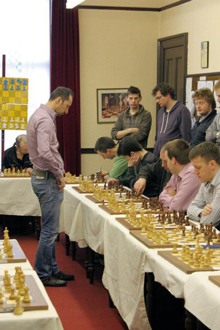 Former world champion Veselin Topalov of Bulgaria lost one game and conceded five draws in his 20 board simultaneous display held at Edinburgh Chess Club on April 29, 2012. 
IM Andrew Greet, the 2010 Scottish Champion, was the only player to win. Draws were secured by GM Jacob Aagaard, Hugh Brechin, Adam Bremner, Roberta Brunello, Robert Lawson and Boris Mitrovic.
Principal event organiser Andy Howie reports: We had a fantastic day. Big thanks go to Alex and Mike for helping to organise. Donald for agreeing to be one of the Arbiters, Edinburgh Chess Club for stepping in and letting us use the venue at short notice, David Archibald and Neil Berry for being very charming hosts and helping us find the hotel (I knew it was 5 minutes walk but was not sure in which direction..), my wife for stepping in as chauffeur and helping to pick up our guests, Quality chess for providing prizes, the players for making it a good day and the endless stream of spectators.
All money raised went towards the Sensory Board fund.
Post Information
Posted on: 29-04-2012
Categories: News