Login
Upcoming Events
Adult Events
02/07/22 - 10/07/22 (9 day event)
15/07/22 - 17/07/22 (3 day event)
05/08/22 - 07/08/22 (3 day event)
Junior Events
18/07/22 - 21/07/22 (4 day event)
Brunello wins Scottish Blitz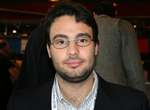 GM Sabino Brunello of Italy won the Scottish Blitz Championships held in Surgeons' Hall Edinburgh on June 16. Brunello scored an unbeaten 10/11 to finish a point clear of GM Danny Gormally. Neil Berry of Edinburgh was top Scot with 8/11. The event was a great success for debut organiser Jonathan Edwards - the arbiting team was IA Alex McFarlane and Lara Barnes.  
Prizewinners:
1st Sabino Brunello. 10/11 £700
2nd Daniel Gormally. 9/11 £350
3rd Arkadij Naiditsch. 8.5/11 £250
4th = & Scottish Blitz Champion. Neil Berry. 8/11  £67 + Scottish Blitz Trophy
4th = Simon Williams. 8/11 £67
4th = Keith Arkell. 8/11  £67
Grading Prizes (Based on Chess Scotland ratings over FIDE)
Under 2000: 1st Ian McDonald. 7/11 £100 + Streetfighting Book
2nd = Roberta Brunello, Jim O'Neil, Walter Burnett, Michael Grove, David Robertson, Shivan Murdochy. 6/11 £10 each.
Under 1700: 1st Hamish Olson. 6/11   £100 + Streetfighting Book
2nd = Murad Abdulla, Anthony Dunlop. 5.5/11 £25 each.
Best Junior (u18): Ian McDonald. 7/11 Luxury chess set (signed by Arkadij Naiditsch) + Book
Titled killing prizes (First non-IM/GM players to beat IM or GM)
Hugh Brechin, Hamish Olson, Elaine Bamber.  £34 each.
Coaching draw: Ali Roy – wins free 2 hour coaching session with Grandmaster Daniel Gormally.
 Photos: Naiditsch v Brunello and Berry v Naiditsch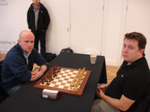 *****
This event was FIDE rated and results will be included in a new FIDE Blitz rating list. These results are not included in standard play FIDE ratings.
FIDE Rating report (pls report any errors to grading@chessscotland.com)
***** 
Preview: The inaugural Scottish Blitz Championships will be held in the Quincentenary Building, Surgeons' Hall, Edinburgh on Saturday 16th of June, 2012. The Championship is in association with Skyscanner.net
A prize fund of £2,000 pounds is guaranteed, with first place £800, as is the entry of former Dortmund winner and top German player Arkadij Naiditsch (2698).
Other titled players have signed up to create a very strong tournament full of stars but with grading prizes throughout the event.
Entry fee is £28 for Chess Scotland members with a reduction also available for juniors and students. The maximum number of places available is limited to 100.
The venue is a 10 minute walk from Waverley station and a short distance from a smart city 5-star hostel which offers £10 for a place to stay in the heart of Edinburgh.
Other information, including time controls and round times, can be found at www.scottishblitz.com.
Post Information
Posted on: 17-06-2012
Categories: News