Login
Upcoming Events
Adult Events
01/06/22 - 05/06/22 (5 day event)
02/06/22 - 05/06/22 (4 day event)
03/06/22 - 05/06/22 (3 day event)
01/07/22 - 03/07/22 (3 day event)
Junior Events
02/06/22 - 05/06/22 (4 day event)
Stirling Congress 2017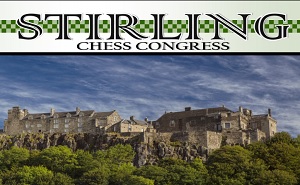 The start of the 1st Stirling Chess Congress (April 28-30) is fast approaching and there is still time to enter what I hope will become a regular addition to the chess calendar.
All entrants to this year's event will now receive a £5 discount on the advertised fees. Not only that, by signing up to participate in the Largs Viking Congress as well, players will also now receive a £5 discount for that event. Paying for both events at Stirling will save competitors £10 on the combined entry fees while Chess Scotland and other national chess federation members get a £2 discount. Any family taking part with at least one junior playing will also save £5 per person with our Family Discount.
We have arranged for a soup and sandwich buffet lunch option at a reduced price of £6. Competitors wanting to take up this option must inform myself by no later than 12 noon on Thursday 27th of April to be sure of not missing out.
Unfortunately the Masters event will not be taking part this year, but I am hopeful that it will make its debut at next year's event.
Tournament Director
Gary McPheator
Post Information
Posted on: 22-04-2017
Categories: News