Login
Upcoming Events
Adult Events
01/06/22 - 05/06/22 (5 day event)
02/06/22 - 05/06/22 (4 day event)
03/06/22 - 05/06/22 (3 day event)
01/07/22 - 03/07/22 (3 day event)
Junior Events
02/06/22 - 05/06/22 (4 day event)
Stewarton Bonnet Guild Allegro 2019 results
Stewarton Bonnet Guild Allegro 2019 was held on Sunday 9 June with 83 players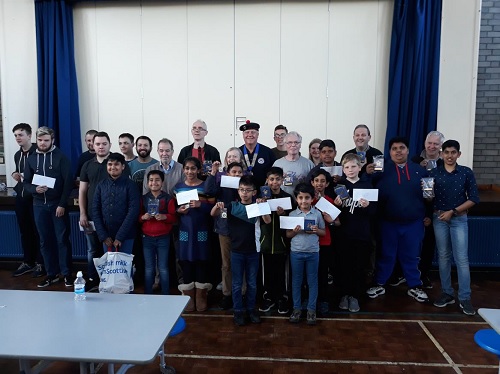 Stewarton Bonnet Guild Chess Allegro 2019
Organised by Stewarton Chess Club together with the Stewarton Bonnet Guild
This year's event was the thirty third year of the Stewarton Bonnet Guild Allegro and was held in
Lainshaw Primary School, Stewarton and a sunny day greeted all the players and organisers on the day.
There were 83 entries this year overall – slightly down on last year but the relaxed atmosphere and
pleasant weather meant that everyone seemed to enjoy themselves with thirty four players going home
with prizes. We were pleased to again have a large group of junior players from the Lenzie Chess
Academy and several of them were among the prizewinners. Almost fifty regular players turned out as
well as a few players new to our tournament.
The Open event continued to have a strong list of players this year with two International Masters (IM)
and one FIDE Master (FM) – four players in all graded over 2000. Among the players were several
players who have represented Scotland in international tournaments including Ali Roy from Carrick and
Jake Sanger from Prestwick who will be travelling to Ireland later this summer to play for Scotland.
The Open section was well contested with IM Stephen Mannion of Paisley finishing in first place and
second place going to IM Roddy McKay of Cathcart – both players having won the event several times
between them over the years with Stephen adding to his tally to make it eight wins. Third place was tied
between four players – Alan Grant (Cathcart), Alex Gillies (SP), Philip Giulian FM (Giffnock), and
Stavros Karampatos (Dumfries)
Our controllers used a computer based system again this year which allows the results to be published
directly to the internet. We would like to thank them all for their hard work. Thanks to Alan Steel of our
own Stewarton Chess Club, John McNicoll of Kilmarnock Chess Club and Stephen Taylor of Greenwood
Chess Club. Also assisting the arbiters in ensuring the event with few problems was Sean McAngus
visiting from Macduff in Aberdeenshire.
This being our second year in our new venue we had hoped that all the organization would be better and thanks to help from the Stewarton Bonnet Guild officials we were able to sort out all the niggles that cropped up. Thanks to John Lynes and all the other officials who helped out in the days and weeks before the event and were very helpful on the day itself. The medals awarded to prize winners were donated by McCluskey Browne and we would like to thank them for their continued support. Caretaker John and kitchen monitor Doreen also ensured that any problems were dealt with promptly. Our thanks also go to the staff and pupils of Lainshaw Primary School who allowed us the use of their school.
The canteen staff again catered for all with a wide selection of hot and cold food and their ever popular range of home baking and our thanks go to Carolyn McNicoll and Marilyn Grigor as well as Agnes Hamilton and John McAngus for their work in keeping the players and officials fed throughout the day. Our special thanks also go to Mr & Mrs Thomson for the supply of Danish pastries, and Marilyn and Carolyn for supplying us with some delicious cakes and buns and John for making the soup which was well appreciated.
*****
Details of all the prize winners
Open
First: Stephen Mannion IM (Paisley)
Second: Roddy McKay IM (Cathcart)
Third (tied): Alan Grant (Cathcart), Alex Gillies (SP), Philip Giulian FM (Giffnock)
and Stavros Karampatos (Dumfries)
Best Ayrshire player: Mark Sanger (Prestwick) and Steven Brown (Ardrossan)
Grading prize: Rosie Giulian (Giffnock)
Major
First: James Montgomery (Hamilton)
Second equal: John Larkin (Polytechnic) and Hamish Glen (Bellshill)
Grading prize: Siegrun Macgilchrist (Carrick), Stuart Marchbank (Dumfries)
Cooper Patterson (Greenwood) and Sanjith Madhavan (East Kilbride)
Best Ayrshire player: Stephen Hamilton (Ayr)
Minor
First: Aryan Munshi (Lenzie Chess Academy)
Second: Dave Watson, (Corstophine)
Third equal: Don Garford (Dumfries) and Bernard Cassidy (Hamilton)
Grading prizes: Ishan Kumar (Lenzie Chess Academy)
Grading prize: Alex MacDonald (Greenwood)
Best Ayrshire player: Stephen Heggie (Largs)
Under 14
First: Dawid Pasik (Greenwood)
Second: Kartike Sharan (Lenzie Chess Academy)
Third: Rishab Anthuven (Lenzie Chess Academy)
Under 12 
First: Ibraham Khan, (High School of Glasgow)
Second equal: Tilak Ittigi (Prestwick), Andrew Lyon (Prestwick),
Unnabh Shrestha (Giffnock), Neev Lukhi (Lenzie Chess Academy),
Kanish Dholahia (Phones) Aksara Balakumar (St Georges)
Report by John Montgomery (Stewarton CC)
Post Information
Posted on: 10-07-2019
Categories: News