Login
Upcoming Events
Adult Events
01/06/22 - 05/06/22 (5 day event)
02/06/22 - 05/06/22 (4 day event)
03/06/22 - 05/06/22 (3 day event)
01/07/22 - 03/07/22 (3 day event)
Junior Events
02/06/22 - 05/06/22 (4 day event)
Stewarton Bonnet Guild Allegro 2018 results
Stewarton Bonnet Guild Chess Allegro 2018
Organised by Stewarton Chess Club together with the Stewarton Bonnet Guild
A change in venue three weeks before this year's Stewarton Bonnet Guild Chess Allegro held on Sunday 10th June 2018 gave the organisers some headaches and problems but the event went ahead at a new venue after the Bonnet Guild organisers were able to arrange a let in Lainshaw Primary School. The change in venue came after a change in the management at the previous venue Stewarton Annick Youth Centre. We were perplexed at the decision not to allow the let this year since we had held the event at the Youth Centre since 1998 with no problems.  The change in venue did not hold back the entries and 87 players attended this year and seemed to enjoy themselves in a new environment. The number of entrants was bolstered by a group of nearly twenty junior players from the Lenzie Chess Academy in Kirkintilloch who went home with a few prizewinners among them. Almost fifty regular players turned out as well as a few players new to our tournament.
Some of the prizewinners – Stewarton Bonnet Guild Chess Allegro 2018
Along with Stewarton Bonnet Guild president John Lynes and Corsehill Queen Natalie Smith and First Courtier Matthew Lyon
The Open event was very strong this year with three International Masters (IM) and one FIDE Master (FM) – seven players in all graded over 2000. Among the players were six previous winners of the Open section
We were again pleased to send over thirty players home with a prize from the tournament.
The Open section was well contested with two players finishing equal for first place and a tiebreak was applied to give the trophy to IM Stephen Mannion of Paisley and second place going to IM Roddy McKay of Cathcart – sharing the combined prize monies between them. Third place was tied between three players – Andrew Muir IM of Hamilton, Alex Gillies and Jamie Malkin of Kilmarnock.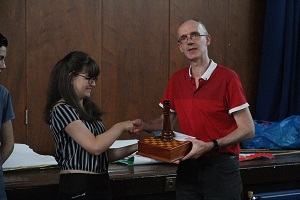 Open section winner Stephen Mannion IM being presented with Bonnet Guild chess trophy by Corsehill Queen Natalie Smith
Our controllers used a computer based system for the second year that allowed the results to be published directly to the web site of the Ayrshire Chess Association as each round was played. We would like to thank them for all their hard work. Thanks to Alan Steel of our own Stewarton Chess Club, John McNicoll of Kilmarnock Chess Club and Stephen Taylor of Greenwood Chess Club. Also assisting the arbiters in keeping the web site up to date was Sean McAngus visiting from Macduff in Aberdeenshire.
The change in venue meant that there was more work to be done than is usually required and Stewarton Chess Club would like to thank the officials from the Bonnet Guild committee for their assistance in setting up and clearing away the hall as well as organizing the car parking and we were pleased to have last year's Corsehill Queen Natalie Smith and First Courtier Matthew Lyon on hand to present the prizes to the lucky winners. The medals awarded to prize winners were donated by McCluskey Browne and we would like to thank them for their continued support.  Caretaker Norrie and Kitchen monitor Doreen also ensured that any problems were dealt with promptly. Our thanks also go to the staff and pupils of Lainshaw Primary School who allowed us the use of their school – this was a trip down memory lane for myself since this was the building used as Stewarton High School when I attended it and also where I first started playing and organizing chess clubs way back in the day as they say.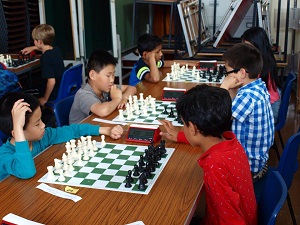 Some of the juniors playing their matches earlier in the day
A change of facilities did not daunt the canteen staff who again catered for all with a wide selection of hot and cold food and their ever popular range of home baking and our thanks go to Carolyn McNicoll and Marilyn Grigor as well as Victoria Grigor and John McAngus for their work in keeping the players and officials fed throughout the day. Our special thanks also go to Mr & Mrs Thomson for the Danish pastries, and Marilyn and Carolyn for supplying us with some delicious cakes and buns and John for making the soup which was well appreciated.
Open section
First place tie between Stephen Mannion and Roddy McKay - Stephen wins on tiebreak
Third equal shared between Andrew Muir, Jamie Malkin, Alex Gillies
Major section
Three way tie for first place David Congalton, George Murphy, Calum McGillivray
David wins first place on tiebreak
Minor section
First place Joe Biggans
Second place tied by Jonathan Fallman, Walter Pearson, Billy Reid, Cooper Patterson
Under 14 section
First place Conor Wilson
Second place Lew Ng
Third place Rajkumar Anbu
Under 12 section
First place Shwetika Balaji
Second equal tied between Ishan Kumar, Lloyd Ferguson
Thanks to John McNicoll and the Stewarton Bonnet Guild for allowing photos to be used.
Prepared by John Montgomery, Secretary, Stewarton Chess Club,
4 Barbeth Place, Girdle Toll, Irvine KA11 1QL, Telephone 01294-221486
Post Information
Posted on: 14-06-2018
Categories: News