Login
Upcoming Events
Adult Events
01/06/22 - 05/06/22 (5 day event)
02/06/22 - 05/06/22 (4 day event)
03/06/22 - 05/06/22 (3 day event)
01/07/22 - 03/07/22 (3 day event)
Junior Events
02/06/22 - 05/06/22 (4 day event)
Stewarton Allegro 2016
Stewarton Bonnet Guild chess allegro
(Thirtieth anniversary year)
 Organised by Stewarton Chess Club together with
the Stewarton Bonnet Guild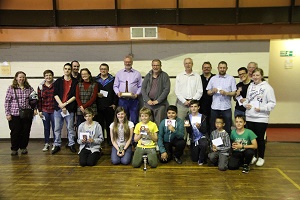 A reduced number of players (75) nor the wet weather did not dampen the atmosphere at this year's Stewarton Bonnet Guild Allegro held on Sunday 12th June 2016 in the Stewarton Annick Youth Centre although the weather stayed overcast and showery with occasional glimpses of the brilliance both outside and on the chess boards in the playing hall.
The Open event was very strong this year with one GM, three IMs and one FM - eight players in all graded over 2000. We were pleased to send over thirty players home with a prize from the tournament.
Over twenty of the entries came from Ayrshire clubs with other players coming from across Scotland  including six players from Dumfries, nine from Edinburgh with another thirty players from the Glasgow area. Top seeded players were GM Colin McNab followed by IMs Stephen Mannion, Roddy McKay and Andrew Muir as well as FM Philip Giulian. There were eight past winners of the event among the players in the Open section which has been running since 1987 – this was our thirtieth anniversary. The past winners who played this year also included Steven Brown who won the event way back in the first year 1987, Alan Grant who has won the event three times, Kenny Malkin who won in 1998, Robin Templeton who won the event in 1990, Alex Gillies who won in 2013 and Roddy McKay who has won it twice in the past nine years. Family means a lot to us at Stewarton and so we were pleased to welcome eight family groups – fathers/sons, fathers/daughters, brothers, husband/wife.
The Open section was well contested with only a half point separating the first five players. Some very good results with players under 2000 getting draws off the higher graded players – Notable were Steven Browns draws against Colin McNab and Andrew Muir. The section finished with a draw for first place between Colin McNab GM and Stephen Mannion IM a tiebreak was applied and the trophy was awarded to Colin McNab. The cash prizes for first and second places were merged and split so that both players received an equal share of the cash.  Third place was tied between Steven Brown, Andrew Muir IM and Philip Giulian IM again each receiving an equal share of prize monies.
Stewarton Chess Club would like to thank the officials from the Bonnet Guild committee for their assistance in running the tournament again this year as well as organizing the car parking and presenting the prizes to the lucky winners. The medals awarded to prize winners were donated by McCluskey Browne and we would like to thank them for their continued support. We are also grateful to Robert and Mary Boyd - the caretaker staff at the Youth Centre who set up and cleared away the hall.
Our controllers handled all the problems of the tournament and were again using a computer based pairing system which worked well and cut down on the work between rounds. We would like to thank them for all their hard work. Thanks to Alan Steel of our own Stewarton Chess Club, John McNicoll of Kilmarnock Chess Club and Fiona Petrie of East Kilbride Chess Club. Also assisting the arbiters in keeping the wall charts up to date and resetting clocks was Sean McAngus visiting from Macduff in Aberdeenshire.
The canteen staff again catered for all with a wide selection of hot and cold food and their ever popular range of home baking and our thanks go to Carolyn McNicoll, Marilyn and Victoria Grigor as well as David Montgomery for their work in keeping the players and officials fed throughout the day. Our special thanks also go to Mr & Mrs Thomson for the Danish pastries, and Marilyn and Carolyn for supplying us with some delicious cakes and buns.
We also presented prizes in a raffle part way through the event with various players winning chess books, mugs, pens, coasters and everyone else winning a free cupcake – our thanks go to Lauren McAngus for making the cupcakes which were decorated with chocolate "30s" to mark the thirtieth anniversary.
Details of all the prize winners
First (on tiebreak)                  Colin McNab GM-Dundee
Second (on tiebreak)              Stephen Mannion IM -Paisley
Third (tied)                             Steven Brown-Ardrossan, Andrew Muir IM-Hamilton, Philip Giulian-Giffnock
Best Ayrshire player              Stephen Robinson-Ardrossan
Grading prize U1850 (tied)    Derek McCormack-Paisley and Rosie Giulian-Giffnock
First (on tiebreak)                  Nikos Argyroudis-Dumfries
Second            (on tiebreak)              Jamie Malkin-Kilmarnock
Third (tied)          David Potts-Bellshill, Stuart Marchbank-Dumfries, Andrew MacQueen-Giffnock
Grading prizes                        U1600- Walter Pearson-Pentland Hills and Alice Lampard-Troon
U1500-Ruaridh McKay-Musselburgh and Caitlin Reid-Paisley
Best Ayrshire player              Jim Armour-Kilmarnock
First (on tiebreak)                  Mark Brown-Badgers Brook
Second (on tiebreak)              Dylan Gillies-Badgers Brook
Third (tied)                             Siegrun Macgilchrist-Ayr and Morven Petrie-East Kilbride
Grading prizes            (U1250)          Colin Macgregor-Paisley, David Watson-Corstorphine, Joe Biggans-Dumfries, Billy Reid-Paisley and Greg Gourlay-Irvine
Grading prize (U1000)           Daryl Burns-Paisley
Best Ayrshire player              Vincent Lampard-Stewarton
First                                        Jonathan McKay-North Juniors
Second                                                Kyle McFie-Paisley
Third                                       Joshua Singh-Greenwood
Under 12 section
First                                        Jamie Watt-Stewarton
Second                                     Sivan Ipek-Glebe
Third (tied)                             Thomas Chan-Glebe and Dawid Pasik-Glebe
Family prizes were won by the Lampard family from Troon (father Stuart, son Vincent and daughter Alice), the Malkin family from Kilmarnock (father Kenny and son Jamie), Giulian family from Giffnock (husband and wife – Philip and Rosie) and the McKay family from Paisley (father and son – Ruaridh and Jonathan)
Thanks to John McNicoll for allowing photos to be used.
Prepared by John Montgomery, Secretary, Stewarton Chess Club,
4 Barbeth Place, Girdle Toll, Irvine KA11 1QL, Telephone 01294-221486
Post Information
Posted on: 20-06-2016
Categories: News