Login
Upcoming Events
Adult Events
01/07/22 - 03/07/22 (3 day event)
02/07/22 - 10/07/22 (9 day event)
15/07/22 - 17/07/22 (3 day event)
Junior Events
01/07/22 - 02/07/22 (2 day event)
18/07/22 - 21/07/22 (4 day event)
Stewarton Allegro 2015 – report
Organised by Stewarton Chess Club together with the Stewarton Bonnet Guild
The 2015 Stewarton Bonnet Guild Chess Allegro was held on Sunday 14th June 2015 in the Stewarton Annick Youth Centre, Stewarton. Ninety five players entered the event but some players called off through illness and some others just didn't show up so a total of eighty-nine players actually played in the events on the day. The Open section was strong again with six of the eighteen players graded over 2000 and including four titled players – one IM (International Master) and three FM (FIDE Master) We were pleased to send over thirty players home with a prize from the tournament.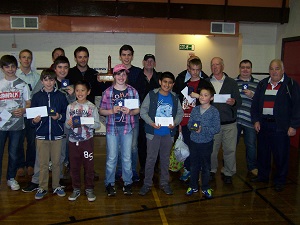 Over thirty of the entries came from Ayrshire clubs with other players coming from across Scotland - from Dumfries, Edinburgh and Peebles with another thirty players from the Glasgow area. Top seeded players were FMs Luis Sanchez, Clement Sreeves and Philip Giulian and IM Roddy McKay. There were five past winners of the event among the players in the Open section which has been running since 1987 – the thirtieth anniversary will be in 2017. The past winners who played this year include Steven Brown who won the event way back in the first year 1987, Alan Grant who has won the event three times, Kenny Malkin who won in 1998, Alex Gillies who won in 2013 and Roddy McKay who has won it twice in the past eight years. Family means a lot to us at Stewarton and so we were pleased to welcome eleven family groups – fathers/sons, fathers/daughters, brothers, sisters, husband/wife and even a grandad/grandson.
The Open section was well contested with some exceptional performances especially from players at the lower end of the grading spread in the event. The section finished with a clear winner in Clement Sreeves of Edinburgh who has attended for several years and has been placed among the prizewinners before but this year was able to win First place and the unique Stewarton Bonnet Guild trophy. Second place was also a clear result by Luis Sanchez from Spain who is playing for Glasgow Phones this season and a tie for third place between Mike Green of Dumfries and Roddy McKay of Cathcart finished the main prizewinners in the Open section.
Stewarton Chess Club would like to thank the officials from the Bonnet Guild committee for their assistance in running the tournament again this year as well as organizing the car parking and presenting the prizes to the lucky players. The medals awarded to prize winners were donated by McCluskey Browne and we would like to thank them for their continued support. We are also grateful to Robert and Mary Boyd - the caretaker staff at the Youth Centre who set up and cleared away the hall.
Our controllers handled all the problems of the tournament and were using a new computer based pairing system which worked well and cut down on the work between rounds. We would like to thank them for all their hard work. Thanks to Alan Steel of our own Stewarton Chess Club and John McNicoll of Kilmarnock Chess Club and Stephen Taylor of Greenwood Chess Club.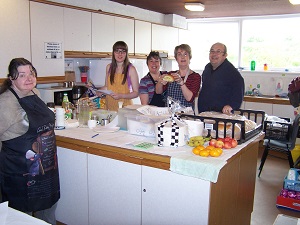 The canteen staff again catered for all with a wide selection of hot and cold food and their ever popular range of home baking and our thanks go to Carolyn McNicoll, Marilyn and Victoria Grigor as well as David Montgomery and Audrey McAngus for their work in keeping the players and officials fed throughout the day. Our special thanks also go to Mr & Mrs Thomson, and Marilyn and Carolyn for supplying us with some delicious cakes and buns and Audrey for her wonderful home-made soup. Thanks also to Mrs Deans for her contribution of homemade marmalades to the event as well.
Details of all the prize winners
Open section
First Clement Sreeves (Edinburgh)
Second Luis Sanchez (Phones)
Third (tied) Mike Green (Dumfries) Roddy McKay IM (Cathcart)
Best Ayrshire player Steven Brown (Ardrossan)
Grading prize U1850 Phil Thomas (Hamilton)
Major section
First Jim Cunningham (Ardrossan)
Second (on tiebreak) James Crone (Paisley)
Third (on tiebreak) Jamie Malkin (Kilmarnock)
Fourth (on tiebreak) Hamish Glen (Bellshill)
Fifth (on tiebreak) Stephen Smith (Stirling)
Grading prizes U1650- Alistair Ahmed (Renfrew)
U1550-Stuart Marchbank (Dumfries) and Gary McPheator (Prestwick)
U1450-Chris King (Troon) and Siddharth Berera (Tiger Cubs)
Best Ayrshire player Duncan Malcolm (Troon)
Minor section
First Darren Gillies (Hamilton)
Second (on tiebreak) Calum McGillivray (Edinburgh)
Third (on tiebreak) Walter Pearson (Pentland Hills)
Grading prizes (U1250) Colin Macgregor (Paisley) and Jake Sanger (Prestwick)
Grading prize (U1000) Sarah Smith(Ayr) Tom Laing (Prestwick) and Andrew Gillies (Hamilton)
Best Ayrshire player James Keegan (Ardrossan)
Under 14 section
First James Norwood (Giffnock)
Second Stephen Wallace (Greenwood)
Third (tied) Calum Brown (Stewarton/Troon) and Jack Swanston (Greenwood)
Under 12 section
First (on tiebreak) Bruce Kerr (Giffnock)
Second (on tiebreak) Teagan Neish (Stewarton)
Third (on tiebreak) Leo Gan (Onthank Primary Kilmarnock)
Family prizes were won by the Lampard family from Troon (father Stuart and daughter Alice), the Malkin family from Kilmarnock (father Kenny and son Jamie), the Reid family from Paisley (father Billy and daughter Caitlin), the Sams from Edinburgh (brothers Dietah and Lukah) the Malcolm/Brown family from Troon (grandad Duncan and grandson Calum) as well as the Gillies family from Airdrie (father Alex and sons Craig, Andrew and Darren)
Prepared by John Montgomery, Secretary, Stewarton Chess Club,
4 Barbeth Place, Girdle Toll, Irvine KA11 1QL, Telephone 01294-221486

Post Information
Posted on: 24-06-2015
Categories: News