Login
Upcoming Events
Adult Events
01/06/22 - 05/06/22 (5 day event)
02/06/22 - 05/06/22 (4 day event)
03/06/22 - 05/06/22 (3 day event)
01/07/22 - 03/07/22 (3 day event)
Junior Events
02/06/22 - 05/06/22 (4 day event)
Stewarton Allegro 2013 – report
Stewarton Bonnet Guild Chess Allegro 2013 and the Ayrshire Junior Championships
Organised by Stewarton Chess Club together with the Stewarton Bonnet Guild and the Ayrshire Chess Association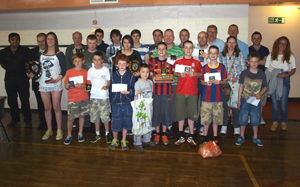 The 2013 Stewarton Bonnet Guild Chess Allegro was held on Sunday 9th June 2013 in the Stewarton Annick Youth Centre, Stewarton. There was a reduced number of players this year with 81 players in the tournament partially due to a number of late call offs from players who couldn't make it on the day. Despite the lower than usual numbers, the Open section was very strong again with six of the sixteen players graded over 2000 and including three IMs (International Master) and an FM (FIDE Master) among the entrants. The event again played host to the Ayrshire Junior and Primary Championships and we were pleased to send nearly forty players home with a prize from the tournament. 
Thirty of the entries came from Ayrshire clubs with other players coming from across Scotland  - from Dunfermline, Edinburgh, Perth, Kinross and Grangemouth with another thirty players from the Glasgow area. Top seeded players were IMs Stephen Burns-Mannion, Roddy McKay and Andrew Muir and Stephen and Roddy between them have won the event for six out of the last eleven years. Also playing was Alan Grant of Cathcart Chess Club another past winner as well as Clement Sreeves from Edinburgh and husband and wife Phil and Rosie Giulian of Giffnock. A large number of families entered with both parents and children playing in the various sections and in some cases as many as four members of the same family.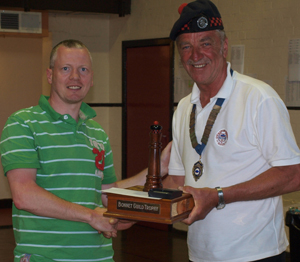 The Open section was eventful with several difficult decisions for the arbiters team and finished on a three way tie (yes again this year) – a tiebreak was applied and the decision was an excellent result for number seven seed Alex Gillies of Shettleson Chess Club in Glasgow who won the trophy and first prize. Alex was kind enough after the prizegiving to point out that we had given him too much prize money with a mix up on the financial side – the prize monies were re-distributed with the other first equal placed players Phil Giulian and Clement Sreeves getting their proper equal share of the combined prize fund. Apologies to Richard Cameron who won a share in the grading prize in the Minor section and was totally omitted from the prizegiving – but got his money afterwards so thanks to Alex and sorry to Richard.
 
Stewarton Chess Club would like to thank the officials from the Bonnet Guild committee for their assistance in setting up and running the tournament again this year as well as organizing the car parking. The medals awarded to prize winners were donated by McCluskey Browne and we would like to thank them for their continued support. We are also grateful to Robert and Mary Boyd - the caretaker staff at the Youth Centre who set up and cleared away the hall.
Our controllers handled all the problems of the tournament and we would like to thank them for all their hard work. Thanks to Alan Steel of our own Stewarton Chess Club and John McNicoll of Kilmarnock Chess Club, David Deary and Stephen Taylor both of Greenwood Chess Club.
The canteen staff again catered for all with a wide selection of hot and cold food and their ever popular range of home baking and our thanks go to Carolyn McNicoll, Marilyn and Victoria Grigor as well as David Montgomery and Agnes Hamilton for their work in keeping the players and officials fed throughout the day. Our special thanks also goes to Mr & Mrs Thomson, and Marilyn and Carolyn for supplying us with some delicious cakes and buns. Thanks also to Mrs Deans for her contributions to the event as well.
Details of all the prize winners
Open section
First (on tiebreak):  Alex Gillies (Shettleston)
Second  (on tiebreak):  Phil Giulian (Giffnock)
Third (on tiebreak):  Clement Sreeves (Edinburgh)
Best Ayrshire player:  Steven Brown (Ardrossan)
Grading prize U1850:  Joe Parks (Kilmarnock), Peter Smith (Ayr), Alan Jelfs (East Kilbride) and Rosie Giulian (Giffnock)
*****
Major section
First (on tiebreak):  David P Gillespie (Irvine)
Second  (on tiebreak):  Jamie Malkin (Kilmarnock)
Third :   Sam Phillips (Bishopbriggs)
Grading prizes U1650: Joseph Watson-McPhie (Paisley) and Alistair Ahmed (Renfrew)
U1550: David Potts (Bellshill), Dick Heathwood (Pentland Hills) and Chris King (Troon)
Best Ayrshire player:  Daniel Deary (Greenwood)
*****
Minor section
First :   Robert Kerr (Renfrewshire)
Second (on tiebreak) :  Bill Falconer (Wandering Dragons)
Third (on tiebreak) : Calum McGilivray (Edinburgh)
Fourth (on tiebreak) :  Grame Forbes (Irvine)
Grading prizes (U1250) : Scott Jordan (Giffnock), Dave Watson (Edinburgh), Richard Cameron (D'n'A)
Grading prize (U1000) : Ben Volland (Dunfermline), Rakhel Paride (Corstorphine)
Best Ayrshire player : Alex Smith (Troon) and David Congalton (Greenwood)
*****
Under 14 section
First :   Andrew Gillies (Hamilton)
Second :  Craig Gillies (Hamilton)
Third  :  Darren Gillies (Hamilton)
Best Ayrshire player :  Tom Laing (Prestwick), Jordan Barr (Greenwood)
Best Female player : Megan Copeland (Irvine)
Megan Copeland wins both the Ayrshire Under 14 Champion &  the Under 14 Girls trophy.
*****
Under 12 section
First (on tiebreak) : Rachel Smith (Ayr)
Second (on tiebreak) :  Robbie McKichan (Prestwick)
Third  :  James Norwood (Bishopton) and Kyle McPhie (Paisley)
Best female :   Hannah Walker (Auchterarder)
Rachel Smith wins the Ayrshire Primary Championship and the Ayrshire Primary Girls Championship.
Family prizes were won by the McFie family from Paisley (father Joseph and son Kyle) the Smith family from Ayr (father Peter and daughters Sarah and Rachel), the Kerr family from Giffnock (father Robert and son Bruce as well as the Gillies family from East Kilbride (father Alex and sons Craig, Andrew and Darren who all won prize monies in the sections)
Prepared by John Montgomery, Secretary, Stewarton Chess Club,
4 Barbeth Place, Girdle Toll, Irvine KA11 1QL, Telephone 01294-221486
Post Information
Posted on: 24-06-2013
Categories: News