Login
Upcoming Events
Adult Events
01/06/22 - 05/06/22 (5 day event)
02/06/22 - 05/06/22 (4 day event)
03/06/22 - 05/06/22 (3 day event)
01/07/22 - 03/07/22 (3 day event)
Junior Events
02/06/22 - 05/06/22 (4 day event)
Stewarton Allegro 2012 report
Stewarton Bonnet Guild Chess Allegro 2012
And the Ayrshire Junior Championships
Organised by Stewarton Chess Club together with
the Stewarton Bonnet Guild and the Ayrshire Chess Association
Report by John Montgomery
*****
The 26th Stewarton Bonnet Guild Chess Allegro was held on Sunday 10th June 2012 in the Stewarton Annick Youth Centre, Stewarton. For the first time in four years we had 104 players entered in the event as a whole. The Open section was very strong again this year with six of the eighteen players graded over 2000 and including two IMs (International Master) and an FM (FIDE Master) among the field. The event again played host to the Ayrshire Junior and Primary Championships as part of our tournament and we were pleased to send nearly forty players home with a prize from the tournament.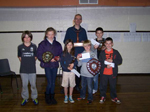 Forty of the entries came from Ayrshire clubs with other players coming from across Scotland – from Dumfries, Edinburgh, Grangemouth and Aberdeen with another forty players from the Glasgow area. Top seeded players were International Masters Roddy McKay and Stephen Burns-Mannion who between them have won the event for five out of the last ten years. Also returning was Alan Grant of Cathcart Chess Club who won the trophy three times in the 90s. A large number of families entered with both parents and children playing in the various sections and in some cases as many as four members of the same family.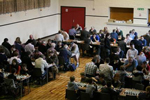 The Open section finished again this year as it did last year with a three way tie for first place – a tiebreak was applied and the trophy was awarded to Stephen Burns-Mannion IM with Roddy McKay IM second place and Alan Grant in third place. Steven Brown of Ardrossan Chess Club won the prize for best result by an Ayrshire player.
 
Stewarton Chess Club would like to thank the officials from the Bonnet Guild committee for their assistance in setting up and running the tournament again this year as well as organizing the car parking. The medals awarded to prize winners were donated by McCluskey Browne and we would like to thank them for their continued support. We are also grateful to Robert and Mary Boyd - the caretaker staff at the Youth Centre who set up and cleared away the hall.
Our controllers handled an increased number of players with fewer controllers than usual and were able to handle all the draws and re-draws and all the other work that make up the event and we would like to thank them for all their hard work. Thanks to Alan Steel of our own Stewarton Chess Club and John McNicoll of Kilmarnock Chess Club.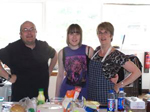 Like Napoleon's army a hall full of chess players marches on its stomachs and once again the canteen staff catered for all with a wide selection of hot and cold food and the ever popular home baked cakes and our thanks go to Carolyn McNicoll, Marilyn Grigor and Victoria Grigor as well as David Montgomery for their work in keeping the army moving throughout the day. Our special thanks also go to Makayla and Martin Francis for their sterling work in assisting at the busy times and handling the pre-booked lunch orders. Home baking was provided by the ladies and we thank Mr & Mrs Thomson, and Marilyn and Carolyn for supplying us with some delicious cakes and buns. Mrs Deans was ever generous again by lending us the coffee machines and supplies and we thank her for her donation..
We would also like to thank Peter Woods of Chess Suppliers who supplied all the equipment and ran the bookstall and shop during the event.
*****
 
Details of all the prize winners
Open section
First (on tiebreak)  Stephen Burns-Mannion IM, Hamilton
Second  (on tiebreak)  Roddy McKay IM, Cathcart
Third (on tiebreak)  Alan Grant, Cathcart
Best Ayrshire player  Steven Brown, Ardrossan
Grading prize U1850  Alan Jelfs, East Kilbride
Major section
First (on tiebreak)  Norman Lyndsay, Glasgow Montrose
Second  (on tiebreak)  Jamie Malkin, Kilmarnock
Third (on tiebreak)  Sam Phillips, Bishopbriggs
Fourth (on tiebreak)  Gary McPheator, Prestwick
Grading prizes
U1650-Robin Moore, Greenwood
U1550-David Deary Greenwood / George Murphy Dumbarton
Best Ayrshire player  Stephen Hamilton, Ayr
Minor section
First    Joe Biggans, Dumfries
Second (on tiebreak)  Derek Raffan, Grangemouth
Third (on tiebreak)  Graeme Forbes, Irvine
Fourth / Fifth / Sixth TB Euan Grey Bon Accord, Daniel Deary Greenwood, Leonardi Sani Castlehill
Grading prizes (U1250) Scott Jordan Giffnock, Alistair Dallas Dumfries, Dave Watson Edinburgh
Hutch Williams Grangemouth, Jacqui Thomas East Kilbride
Grading prize (U1000) Derek Howie, East Kilbride
Best Ayrshire player  David Congalton Greenwood
Under 14 section
First    Andrew Reilly, Hamilton
Second    Rowan Pathi, Kirkhill
Third equal   Craig Gillies St Aloysius, Lydia Cole Kilwinning Jack Stewart Greenwood
Best Ayrshire player  Makayla Francis, Stewarton
Best Female player  Rebekah Jack, Troon
Jack Stewart -Ayrshire Under 14 Champion & Lydia Cole-Ayrshire Under 14 Girls trophy.
Under 12 section
First (on tiebreak)  Tom Laing Prestwick
Second (on tiebreak)  Andrew Gillies, St Aloysiuis
Third (on tiebreak)  Darren Gillies, St Aloysius
Fourth (on tiebreak)  Kyle McFie Paisley
Best female   Iris Cole, Corsehill (Kilwinning)
Best Ayrshire player  Jack Gibson, Troon and Samuel Cole, Corsehill (Kilwinning)
 
Family prizes were won by the Deary brothers from Greenwood (David and Daniel), the Malkin family from Kilmarnock (father Kenny and son Jamie) the McFie family from Paisley (father Joseph and son Kyle) the Phillips family from Bishopbriggs (father and son Gordon/Samuel) the Jordan family from Giffnock (father Joe, son Scott and his sister Shona) and the Gillies family from Glasgow (father Alex and sons Craig, Andrew and Darren)
Prepared by John Montgomery, Secretary, Stewarton Chess Club,
4 Barbeth Place, Girdle Toll, Irvine KA11 1QL, Telephone 01294-221486 
Post Information
Posted on: 18-06-2012
Categories: News