Login
Upcoming Events
Adult Events
01/06/22 - 05/06/22 (5 day event)
02/06/22 - 05/06/22 (4 day event)
03/06/22 - 05/06/22 (3 day event)
01/07/22 - 03/07/22 (3 day event)
Junior Events
02/06/22 - 05/06/22 (4 day event)
Scottish Online Chess League 2021
Sunday 28th March (1 day event)
Time Controls: Allegro
More Information
Update March 16 2021: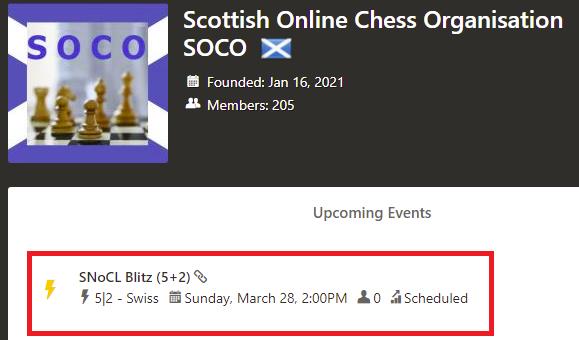 SNOCL - Round 5 Sunday 28th March & Blitz
Here are 3 important announcements:
1) Challenge not working
We have the fix for players getting the message about being too many grading points between their opponent.
Please encourage your players to watch Andy Heron's excellent tutorial video ("Challenge Not Working") which explains what to do http://chess123.uk/videos
Please also view the pdf.
2) Tie Breaker Rules
In the event of a tie (all divisions) then the final order will be decided by (in order!)
Result of match between the tied teams
Board points
Sonneborn Berger system
Sum of opponents match points
Sum of opponents board points
Toss of coin
3) Blitz
Sunday BLITZ 2pm (5 mins + 2 secs)
Free Entry to members of SOCO on chess.com
https://www.chess.com/live#t=2179719
If requested on chess.com please also include a note of your real name and PNUM (if you have one and know it) or email your details to one of the organisers and we will send you a joining link.
Unfortunately, we cannot guarantee processing of any new members joining SOCO after midnight Friday 26th March – so please apply early if you are not a SOCO member yet!
*****
Introduction
"The Scottish Online Chess League (SNOCL) , under the auspices of the Scottish Online Chess Organisation (SOCO) will start on Sunday 31st January 2021. The event is for teams of five players.
It is envisaged that six rounds will take place, two rounds per day although this may change according to number of entries. The first round is expected to start at 11.00am and the second round at 2.00 pm.
Entries and any enquires to be sent to ian.brownlee@systemsit.co.uk.   Tel. no 07899 832770 . Teams Captains will be expected to compile teams sheets including usernames and actual names.
Entries to be received no later than Sunday 24th January
Chief Arbiter will be John McNicoll, who is responsible for all decisions regarding game play
Tournament Director Will be Ian Brownlee who is responsible for all admin.
Time controls 25 minutes plus 10 second increments
Team captains will compile their teams and send list of players and usernames to Ian Brownlee
Games will be played on chess.com
Games will be subject to fair play screening and Chess Scotland policy. However games will only be graded by the online game provider and will NOT be submitted for grading by CS.
Players will be required to have a valid online chess account for chess.com
Game disconnection will count as a loss, unless a substantial appeal can be made  to the  Chief Arbiter who will attempt to resolve any issues, which may include the formation of an appeals committee.
The tournament will be organised by the Scottish Online Chess Organisation (SOCO).
There will be nominal prizes such as trophies (and kudos)
SOCO will provide a website where it will be possible to pick teams, view results etc. Team captains will have access to this site for admin and will be able to view the opponents team before the match commences (at the time of writing one hour before match commences but this may change
SOCO reserves the right to make any changes to these rules, before and during the tournament. The chief arbiter also has the right to make operational changes
Entry team per team is £15. Clubs who are also members of Chess Scotland can enjoy a £5 discount per team. Similarly are leagues who submit teams and are themselves members of Chess Scotland can also receive a £5 discount. This is a substantial incentive to regional chess league as we are planning to start an inter-regional chess league if there is enough interest.
Finally we are hoping to have a junior section to the SNOCL if there is enough interest. Juniors would be able to play in both sections if desired.
Entrants