Login
Upcoming Events
Adult Events
02/07/22 - 10/07/22 (9 day event)
15/07/22 - 17/07/22 (3 day event)
05/08/22 - 07/08/22 (3 day event)
Junior Events
18/07/22 - 21/07/22 (4 day event)
Scottish Girls Championships 2016
[caption id="attachment_5703" align="alignnone" width="150"]
The participants.[/caption]
Following on the success of the previous two years and as part of Chess Scotland's wish to make major junior events available to all the geographical regions of Scotland, the North-East was selected to host the Scottish Girls Championships for a third successive year on Saturday March 12th 2016. The Championships were organised and run by the team at the North-East Junior Chess Association (NEJCA) in conjunction with Chess Scotland.

Brotherton Castle (home of Lathallan School) was again the host venue. Situated on the coast, with stunning views from the playing halls, over the gardens to the sea, the Castle provides a superb backdrop to this prestigious event and as in previous years, the facilities were excellent and the free lunches greatly appreciated by players, parents and guardians alike.
[caption id="attachment_5705" align="alignnone" width="150"]
Brotherton Castle. Home of Lathallan School.[/caption]
WFM Joy Durno offered coaching to entrants between rounds and discussed how to progress to international selection. As usual she was mobbed by the entrants keen to learn how to improve their chess. Support was provided by Sean Milton and John Shovlin.
The event also provided the opportunity for presentation of the Cherie Booth award, for the Scottish girl chess player of the year during the 2014-15 season, to Rachel Lorna Smith. The award was presented by Joy, on behalf of Chess Scotland, after I had spoken about some of Rachel's achievements during that season.
[caption id="attachment_5718" align="alignnone" width="150"]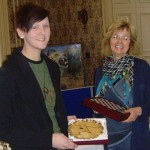 Rachel receives the Cherie Booth Salver and a memento from WFM Joy Durno.[/caption]
The three sections of the Championships were all keenly contested by the girls throughout the day.
In the P5 and under, Jessica Freeman, from Albyn school in Aberdeen, secured the title with one round to spare but went on to win her last round and become the Scottish Girls P5 and under Champion with a perfect 8 out of 8. Second place Emma Heron recovered from her first round loss to the eventual winner, to take the runners-up position with 6 points. Her only other loss was to her younger sister Sophie in the penultimate round. Both girls are from Holy Cross Primary in Croy.
[caption id="attachment_5721" align="alignnone" width="150"]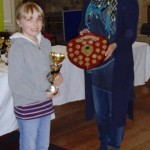 Jessica Freeman, Scottish Girls Champion.[/caption]
Sophie's victory over her sister meant that a win in her last round match could have snatched second place from her sister, under the tie break but Chelsea Liang, of Fettes College, used the advantage of having white to prevail, pushing Sophie down to fourth and taking third place herself.
Sophie Gillick, Albyn School, rounded off the top five, with 4 ½ points, losing only to three of the girls in the top four place.
The P7 and under section was run as an all play all and went down to the last round. Having won her first four games, Carolina Espinosa Cancino, Girvan, lost to Hannah Walker, Perth, in round 5, leaving both players on 4 out of 5 with one round to go.
[caption id="attachment_5723" align="alignnone" width="150"]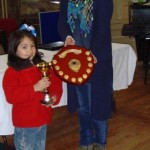 Carolina Espinosa Cancino, Scottish Girls Champion.[/caption]
Carolina's final round win against Zoe Ng, Lenzie and Uma Ganesan of Westhill Primary's defeat of Hannah meant that Carolina took the title, with Hannah second and Uma third.
The Open section was no less keenly contested and the eventual winner's perfect 6 out of 6 demonstrated her Olympiad place earning form but was hard fought for nonetheless, against a section that contained a lot of talent.
Monica Espinosa Cancino, rounded off a successful day for the family and a special week for herself by taking the Scottish Girls Champion title. Having scored 100% in her Mathematics prelim exam and been selected for the 2016 Scotland Olympiad team, Saturday's success was the icing on the cake.
[caption id="attachment_5714" align="alignnone" width="150"]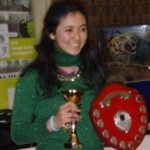 Monica Espinosa Cancino, Scottish Girls Champion.[/caption]
Second place was taken by Oishani Dutta, of St Margaret's and North Juniors, who followed up her recent good form at weekend congresses by beating the Smith sisters and her own sister on her way to 5 out of 6.
Rachel Smith finished outright third with four points, having lost only two games to Monica and Oishani.
A hugely enjoyable day of chess, ended with the presentation of trophies and the crowning of three new champions, who all received their awards from WFM Joy Durno.
[caption id="attachment_5730" align="alignnone" width="150"]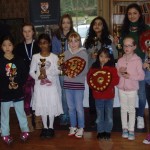 The Trophy Winners.[/caption]
[caption id="attachment_5728" align="alignnone" width="150"]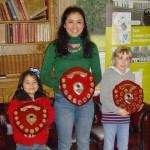 The Champions.[/caption]
Thanks to all who participated and to the various helpers. Thanks to all involved with NEJCA on the successful organisation of the event for the third consecutive year. A huge thanks also to Lathallan School and Duncan Lyall for their generous access to their facilities and providing the free coffee, tea and home-bakes plus arranging the lunches.
For the full results and more photographs visit the NEJCA website http://www.nejca.co.uk/Scottish%20Girls%20Championship.htm
Photographs courtesy of Gerald Lobley.
David Congalton
Post Information
Posted on: 13-03-2016
Categories: Junior News, News