Login
Upcoming Events
Adult Events
01/06/22 - 05/06/22 (5 day event)
02/06/22 - 05/06/22 (4 day event)
03/06/22 - 05/06/22 (3 day event)
01/07/22 - 03/07/22 (3 day event)
Junior Events
02/06/22 - 05/06/22 (4 day event)
Scottish Girls Championships 2019
Lathallan School, 9th March
Brotherton Castle. Home of Lathallan School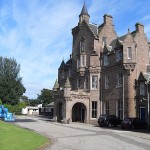 The North-East was selected to organise the Scottish Girls Championships for a sixth successive year on Saturday 9th March 2019. The Championships were organised and run by the team at the North-East Junior Chess Association (NEJCA) on behalf of Chess Scotland.
Brotherton Castle, home of Lathallan School was again the host venue. The Castle provides a superb backdrop to this prestigious event, with its stunning coastal views from the playing halls, over the gardens to the sea. As in previous years, the facilities were excellent, and the lunches provided by the school were greatly appreciated by players, parents and guardians alike.
The Open and P5 and Under sections of the Championships were played as an all-play-all and were keenly contested by the girls throughout the day. The Primary event was played over 5 rounds. Once again, the closeness of some of the competitions was such that some results had to be determined by tie-breaks.
In the P5 and Under, Sophie Heron secured the title outright with a perfect score of 7 out of 7. This is the second time that Sophie has won the P5 and Under title, a rare achievement in this section!
The P7 and Under section was won by Nivedita Suyal, again with a perfect score of 5 out of 5. This was a hotly contested competition and Nevedita held her nerve, beating her closest rivals in the last three rounds.
Rachel Lorna Smith retained her title as Scottish Girl's Champion for the third consecutive year, with a score of 4 out of 5 on a tie-break. Rachel suffered a set-back in the first round, losing her match against Charvi Kanodia. Undeterred, Rachel maintained her composure and won two nearly identical Q and P's versus Q and P's endings with little time remaining on the clock. Championship play under pressure – a worthy champion!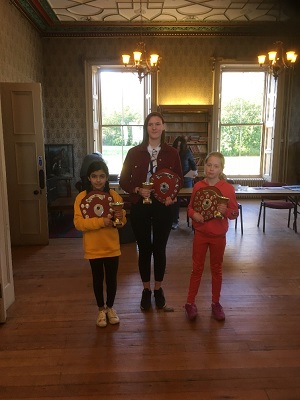 A hugely enjoyable day of chess, ended with the presentation of trophies and the crowning of three champions, who received their awards from Duncan Lyall representing Lathallan School (Open) and Arlene Grant from NEJCA (P5 and Under / P7 and Under).
Thanks to all who participated and to the various helpers and to all involved with NEJCA on the successful organisation of the event for the sixth consecutive year. A huge thanks also to Lathallan School and Duncan Lyall for their generosity, hosting the event and providing the coffee, tea, home-bakes, lunches and good weather!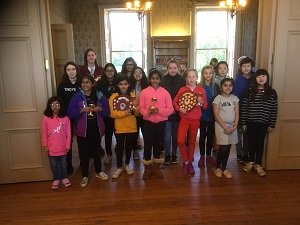 | | | |
| --- | --- | --- |
| P5 and Under | Primary | Open Championship |
| 1st Sophie Heron 7/7 | 1st Nevedita Suyal 5/5 | 1st Rachel Lorna Smith 4/5 |
| 2nd Angharad Hunt 5/7 | 2nd Aksara Balakumar 4/5 | 2nd Oishani Dutta 4/5   |
| 3rd Varshini Arcot 5/7 | 3rd Schwetika Balaji 3½/5 | 3rd Nandini Dutta 3/5 |
report by Steve Sawaryn (NEJCA)
Post Information
Posted on: 12-03-2019
Categories: Junior News, News