Login
Upcoming Events
Adult Events
01/06/22 - 05/06/22 (5 day event)
02/06/22 - 05/06/22 (4 day event)
03/06/22 - 05/06/22 (3 day event)
01/07/22 - 03/07/22 (3 day event)
Junior Events
02/06/22 - 05/06/22 (4 day event)
Scottish Champion 2012 – Jacob Aagaard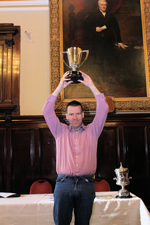 GM Jacob Aagaard of Bearsden CC won the 119th Scottish Championship held in the Trades Hall in Glasgow.
Scottish Championships
1st= GM Nikolov Momchil, GM Vitaly Teterev, GM Jacob Aagaard, IM Jonathan Hawkins, IM Bragi Thorfinsson 7/9
Scottish Champion: GM Jacob Aagaard 7/9
Scottish Senior Champions: IM Roddy McKay, FM Philip Giulian 5.5/9
Junior Boy: Andrew McClement 5.5/9
Junior Girl: Ali Roy 4/9
U2400 Grading: Jasmin Bejtovic, Michael De Verdier, IM Douglas Bryson, FM Alan Tate 6/9
U2200 Grading: Daniel Lindner, Andrew McClement 5.5/9
U2050 Grading: Douglas McKerracher, Nokkvi Sverrisson 5/9
U1950 Grading: Douglas Will, Ian Marks 5/9
U1800 Grading: Jon T Hardasson 4.5/9
Giant Killer: Conor O'Donnell
Best Game: FM Donald Holmes
FIDE Rating report (please report any errors to grading@chessscotland.com)
Player of the Year: Calum MacQueen
U1750 / Senior
1st= George Murphy, William Clinton 5/7
U1750 Boy: Carl Milton 4/7
U1450
1st David Potts 5/7
2nd = David Congalton, Joseph Weir, Bernard Cassidy, Iain Hope 4.5/7
U1450 Girl: Anna Milton 2.5/7
Weekend Open
1st Alex Gillies 4/5
2nd= John Briggs, Jonathan Wells 3.5/5
Weekend Major
1st John Smith 4.5/5
2nd= Norman Lindsay, Keith Aitchieson, Joshua Higgs 4/5
U1475 Grading Ian Morris 3.5/5
Weekend Minor
1st Stuart Wynne, 4.5/5
2nd = David Watson, Liam Richmond, Leszek Rewak
 *****
Preview: Scottish Championships 2012
The Trades Hall in Glassford Street in Glasgow is the venue for the 119th Scottish Championships from 7-15th July, 2012. The Robert Adam designed building from 1794 will host an International Open, first prize £2000, in which the highest placed Scot takes the championship title. Private sponsorship has attracted a strong field of visiting GMs to challenge the top Scots. There are several ancillary events including a weekend congress.
Live Games, pairings and results at the Scottish Championship 2012 Website
*****
August 2011 preview and sponsor: Chess Scotland is pleased to announce that the 2012 Scottish Championships will be greatly enhanced thanks to the support of an anonymous benefactor.
This person wishes to remain unknown and we will honour that request. I am not able to say how much the arrangement is for, other than it is a significant amount which should enable a large number of titled players to take part. The ambitious target figure is to have 10 GMs and 10 IMs competing and a total field of at least 80 players.
I hope to be able to confirm dates and a venue within the next few weeks. I will then contact our titled players with offers of 'conditions'. Thereafter other titled players will be approached.
The provisional dates are 7th-15th July, 2012. (It may be the week before.)
With some luck we will be able to put on an event to rival, if not better, Edinburgh 2009.
There is the potential for this deal to be extended to three years. It also means that we can now make a realistic bid for the 2014 Commonwealth Championships.
The Scottish Championship 2012 Website is already on line.
As part of the sponsorship deal Chess Scotland will be able to get 8 sensory boards. However, whilst this money can be used initially it must be returned to the Scottish Championship fund. This does allow us to get the boards and start the process of live games.
The AGM unanimously passed a vote of thanks to benefactor. Anyone else wishing their appreciation to be recorded should contact Alex McFarlane.
Post Information
Posted on: 18-07-2012
Categories: News