Login
Upcoming Events
Adult Events
01/06/22 - 05/06/22 (5 day event)
02/06/22 - 05/06/22 (4 day event)
03/06/22 - 05/06/22 (3 day event)
01/07/22 - 03/07/22 (3 day event)
Junior Events
02/06/22 - 05/06/22 (4 day event)
Scottish Blitz Championship – June 15
Arkadi Naiditsch won the 2nd Scottish Blitz Championship - Keti Grant won the Scottish title. 
1st - Arkadij Naiditsch (Germany) 11.5/13 - £600
2nd - Danny Gormally (England) 10.5/13 - £400
3rd= - Keti Arakhamia-Grant (Scotland) 10/13 - £150 & Scottish Blitz Champion Trophy
3rd= - Mickey Adams (England) 10/13 - £150
Keti is the Scottish Blitz Champion for 2013 after beating the top two seeds back-to-back in the final two rounds.
Thanks for all the support this year!
report by Jonathan Edwards
 *****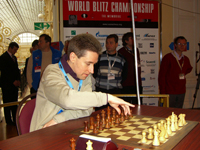 Preview: British no.1 Michael Adams has confirmed his participation in the 2nd Scottish Blitz Championship which takes place at Surgeon's Hall in Edinburgh on June 15.
May 8: Walkers Shortbread have become the title sponsor for this year's Scottish Blitz... It's amazing to have the support of Scotland's largest exporter of food.
*****
Sponsors: Walkers Shortbread
Skyscanner (www.skyscanner.net), Sylvestrus Ltd. (www.sylvestrus.co.uk)
Intro: This year's Scottish Blitz looks set to be one of the strongest tournaments ever seen in Scotland. last year's top seed GM Arkadij Naiditsch - the current world number 35 - who recently gave a simultaneous display and talk at Edinburgh Chess Club, has recently confirmed that he will be returning for the 2013 competition.
What's more, Naiditsch won't even be the top seed. Britain's strongest ever player, former world title challenger and current world number 22 GM Michael Adams has also entered. The participation of two players rated over 2700 makes this a superb opportunity for Scottish players to compete against world-class opposition.
Seven other titled players have entered so far, with GM Daniel Gormally and GM Keith Arkell heading the list. The event will be held on Saturday 15th June at Edinburgh's Surgeon's Hall (the same venue as last year.) Entry currently costs £20 for adults and £10 for students and juniors. GMs and IMs enter free.
Please visit the website (www.scottishblitz.com) for further details and entry.
Michael Adams: An International Master aged 15 and a Grandmaster aged 17, Michael 'Mickey' Adams has been a member of chess's global elite for two decades. He has won numerous international tournaments, including Dos Hermanas, Dortmund and Gibraltar, during his career. The four-time British Champion was the runner-up in the 2004 FIDE World Championships, and participated in the elite 8-player San Luis World Championships the following year.
Please contact Jonathan Edwards (J_edwards92@hotmail.co.uk) with any queries or offers of sponsorship.
Post Information
Posted on: 15-06-2013
Categories: News