Login
Upcoming Events
Adult Events
01/06/22 - 05/06/22 (5 day event)
02/06/22 - 05/06/22 (4 day event)
03/06/22 - 05/06/22 (3 day event)
01/07/22 - 03/07/22 (3 day event)
Junior Events
02/06/22 - 05/06/22 (4 day event)
Scotland Street School Museum – Chess Exhibition – 30 & 31 August
Glasgow's iconic, Charles Rennie Mackintosh designed Scotland Street Primary School, now one of Glasgow's premier museums, has given Chess Scotland the go-ahead to platform a celebration of the Commonwealth Chess Championships, held early in July.   The  Exhibition Website has information on what is happening.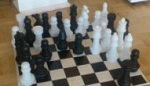 IM Craig Pritchett has been the main driving force behind this initiative.  Calum McQueen (IJD) is assisting with identifying young players who can participate in the master class session on 30 and 31 August.   Others who have assisted include Alex MacFarlane and Hamish Glen.
Craig has posted information on the discussion forum  This is a great idea to promote awareness of chess, please give you support by calling in at the museum.  You never know, perhaps you can recruit a new player or two.
Centre stage will be a "master class" for 4-6 (different) youngsters each day (ideally primary school age and with at least one girl), on August 30/31, against a background of celebratory text and photos from the Commonwealth Championships on the theme "How the Commonwealth gave us the modern game". Chess, of course, originated in India, in the form of the ancient Indian game, Chaturanga. As we know, the Indian contingent took virtually all of the main prizes in Glasgow .... a historical wheel turned full circle.
The "master-class" will take place in the game-playing area of the Museum's current (excellent), long-running "Games" exhibition. The history of chess and various chess-related exhibits already feature prominently within that exhibition. The chess-players will enjoy a 'properly' instructive hour or two and have a chance to be shown round the museum (very well worth doing). We'll also have the opportunity to play and talk informally to members of the visiting public ... the overall emphasis will be to have fun all round.
I'll keep the noticeboard informed as further details are settled. Calum McQueen (IJD) is co-ordinating names / numbers of participating youngsters. I am dealing directly with the museum, and will lead the master-class, with help from Alex MacFarlane and Hamish Glen (and possibly others). Alex plans to base a 'travelling' exhibition to take around Scottish congresses on the celebratory text / photos used at the exhibition. This idea was an important element in CS's successful bid for £10K lottery funding for the Commonwealth Championships.
Put the dates in your diary, and if you can, do come along. You will enjoy it! Watch this space!
Posted by Membership Secretary
Post Information
Posted on: 27-08-2014
Categories: News