Login
Upcoming Events
Adult Events
01/07/22 - 03/07/22 (3 day event)
02/07/22 - 10/07/22 (9 day event)
15/07/22 - 17/07/22 (3 day event)
Junior Events
01/07/22 - 02/07/22 (2 day event)
18/07/22 - 21/07/22 (4 day event)
Play the Scottish Champion – Sep 30, 2012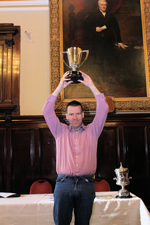 Play the Scottish Champion – Simultaneous Display 30 Sept 2012                                             
GM Jacob Aagaard, the current Scottish Chess Champion will be giving a talk on this recent success  followed by a simultaneous display on Sunday 30th September in Milngavie at Bearsden Chess Club.
From 2:30-6:00 pm.
This is a great chance to find out if someone from your club can beat the Champion.  Book prizes for those who do.
Entry fee for participants £6 Adult, £5 Junior
(Bearsden Club members or prospective members have a £1 (Adult) or £2 (Junior) discount)
Spectators welcome .  Refreshments available. Tea/Coffee, soft drinks, biscuits
Reserve your place now by contacting Ian English
0141 944 3093
who will give you payment details and confirm your place. Cheques payable to "Bearsden Chess Club"
Alternatively, contact Mel Burt (james.burt@ntlworld.com Tel 0141 569 3361) 
This event is limited to around 40-45 participants.
Post Information
Posted on: 21-09-2012
Categories: News