Login
Upcoming Events
Adult Events
01/07/22 - 03/07/22 (3 day event)
02/07/22 - 10/07/22 (9 day event)
15/07/22 - 17/07/22 (3 day event)
Junior Events
01/07/22 - 02/07/22 (2 day event)
18/07/22 - 21/07/22 (4 day event)
Nigel Short in Edinburgh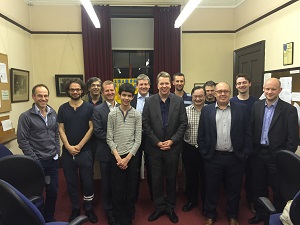 Former World Championship finalist Nigel Short visited Edinburgh Chess Club between 26 and 29 September, 2015. He talked on the theme of setting up and executing an attack using examples from across his career.
Highlights included the spectacular game 8 from his title match against Kasparov. Demolitions of great players such as Ljubojevic, Timman and Seirawan demonstrated his excellent feel for the initiative.
Nigel also shared his insights across a wide range of chess related topics which were as entertaining as they were informative.
Jonathan Grant
Post Information
Posted on: 02-10-2015
Categories: News