Login
Upcoming Events
Adult Events
01/06/22 - 05/06/22 (5 day event)
02/06/22 - 05/06/22 (4 day event)
03/06/22 - 05/06/22 (3 day event)
01/07/22 - 03/07/22 (3 day event)
Junior Events
02/06/22 - 05/06/22 (4 day event)
Lord Kirkwood
The death has been announced of Lord Kirkwood, Honorary President of Chess Scotland, on April 22.
http://www.advocates.org.uk/news-and-responses/news/2017/apr/rt-hon-lord-kirkwood
***
The biography page in the CS History Archive
Ian Candlish Kirkwood (Lord Kirkwood)
Born: 08 June 1932
Educated at George Watson's College, Edinburgh, where he was a member of the school chess team. During this period he played in the Scottish Boys' Championships of 1947 and 1948, sharing 1st place with John A. Jackson in 1948 after each of them won their preliminary sections, and drew a play-off match of three games.
Associated with Edinburgh Chess Club. Played in the Scottish Championship 1953. Participated in the 1st World Student Team Chess Championship at Oslo, 1954; there was no Scottish team, so he played as part of an Italy-Scotland-France team. Member of the Edinburgh CC team that won the Richardson Cup 1958, and was also on the team that lost in 1960.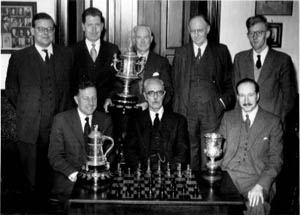 Edinburgh CC - the winning team.
Standing l-r: W.S. Smerdon, I.C. Kirkwood (Lord Kirkwood),
D.S. Clunie, A.G. Laing, R.W. Baxter.
Sitting l-r: J.A. Smith, D. Simpson, I. McRobbie
He has retained his interest in chess, and is a patron of Edinburgh CC and Chess Scotland.
Lord Kirkwood is a graduate of the Universities of Edinburgh (MA, LLB) and Michigan (LLM). Admitted to the Faculty of Advocates in 1957, and became a Queen's Counsel (Scotland) in 1970. Later, he was Standing Junior Counsel to the Scottish Home and Health Department in 1963. Served on the Parole Board for Scotland from 1994 to 1997. Chairman of Medical Appeals Tribunals. Became a judge in 1987. He was one of five judges selected to hear the appeal of convicted Lockerbie bomber Abdelbaset Ali Mohmed Al Megrahi. This appeal was heard at a special Scottish Court in the Netherlands in 2002.
Alan McGowan
Historian, Chess Scotland
Post Information
Posted on: 28-04-2017
Categories: News