Login
Upcoming Events
Adult Events
01/07/22 - 03/07/22 (3 day event)
02/07/22 - 10/07/22 (9 day event)
15/07/22 - 17/07/22 (3 day event)
Junior Events
01/07/22 - 02/07/22 (2 day event)
18/07/22 - 21/07/22 (4 day event)
London Chess Classic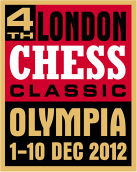 World no.1 Magnus Carlsen of Norway took first place in the 4th London Chess Classic which took place at Kensington Olympia, 1-10 December.
The stellar line-up comprised World No 1 Magnus Carlsen, World Champion Vishy Anand, world No 2 Levon Aronian, the defending champion Vladimir Kramnik, US Champion Hikaru Nakamura, the UK No 1 Mickey Adams, the UK No 2 Luke McShane, Women's World No 1 Judit Polgar, and British Champion Gawain Jones.
As well as a high standard of fighting play the event will be remembered for Carlsen's achievement in breaking Garry Kasparov's rating record.
Chessdom coverage
Scotland no.1 GM Jonathan Rowson took 3rd place in the FIDE Open which accompanied the Classic. http://www.classic.livechess.co.uk/2012/fideop/SMWSite/index.html
Post Information
Posted on: 29-11-2012
Categories: News