Login
Upcoming Events
Adult Events
01/06/22 - 05/06/22 (5 day event)
02/06/22 - 05/06/22 (4 day event)
03/06/22 - 05/06/22 (3 day event)
01/07/22 - 03/07/22 (3 day event)
Junior Events
02/06/22 - 05/06/22 (4 day event)
Liverpool Quadrangular 2019 – report
The Liverpool Quadrangular event took place again in Liverpool College on 8th and 9th December 2019 - report by Fiona Petrie.
This year we had a lot of new faces in the squad along with some more experienced players.
Our U16 team were a man down due to ill health but both U12 and U14 were full teams.
Due to Midlands not being able to provide a team in U12 that event was held as a jamboree.
We once again stayed at the Youth Hostel which allowed the teams plenty time to relax and get to know each other. Parents were able to explore Liverpool on the Saturday morning before round 1.
The results were slightly delayed due to the organiser Pete Purland taking unwell (I am happy to report he is a lot better now). Grading data will appear in due course
Final results table below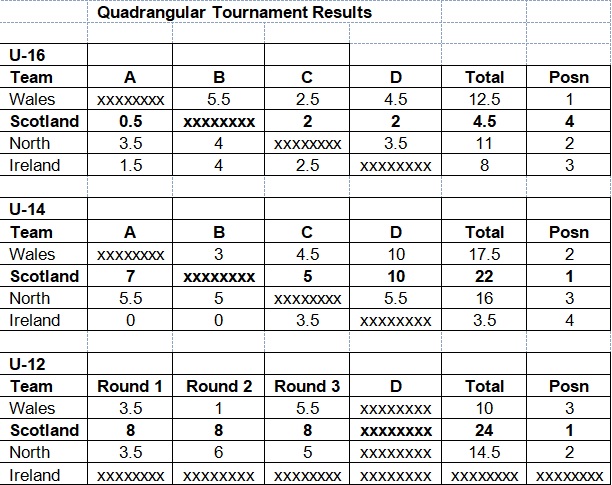 The annual Scotland team photo with their coach Richard Jennings who deserves our thanks for ensuring our younger squad members were well prepared beforehand. He also worked tirelessly during the event with all our players.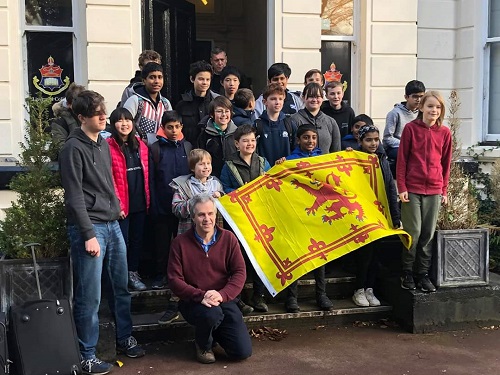 Thanks, are also due to Karen Howie, my right-hand help, and chief photographer.
And to our second team coach David Robertson for providing additional coaching.
A big thank you also to the parents for the support they give our players, and to me, especially this year when we had a problem with transport on Sunday morning. Parents stepped up to ensure the players all got to the event on time.
Finally a big thank you to the players themselves who all gave 100% in every game.
They also all behaved fantastically in the accommodation and the hostel staff were full of praise for them.  The new players were very quickly made to feel part of the squad and everyone encouraged each other and supported each other brilliantly.
I feel very privileged to be allowed to work with such a great group of youngsters.
Hope you all have a great Christmas and New Year and I look forward to  working with you all in 2020.
Post Information
Posted on: 11-12-2019
Categories: News