Login
Upcoming Events
Adult Events
01/06/22 - 05/06/22 (5 day event)
02/06/22 - 05/06/22 (4 day event)
03/06/22 - 05/06/22 (3 day event)
01/07/22 - 03/07/22 (3 day event)
Junior Events
02/06/22 - 05/06/22 (4 day event)
Lanark Open
The Lanark Open is a five round swiss event held on Monday evenings between 15 August and 12 September.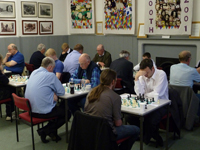 There are 22 players in this inaugural Lanark Open.  In addition to a number of Lanark members there are competitors from other Lanarkshire clubs and from Glasgow, Ayrshire and West Lothian.
 In the first round most of the players in the top half of the draw won their games; the second round will probably be a bit tougher.
Unlike round one the second round produced a few draws. It also had a slightly surprising result - top seed Jim Doyle losing to Frankie Murray. The other top players came through unscathed.
The photograph is of the tournament's youngest player, Alexander Bond (11) playing the oldest, Bill Strachan (80) - Alexander eventually won.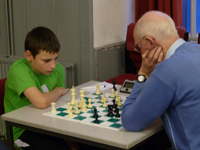 Round three was interesting. Although all the games finished quite early only one was drawn, all the others ending decisively. As in round two, one of the top seeds stumbled, Richard Wiltshire losing to Jim Smalls. Paul MacDonald and Jim Smalls are joint leaders on 3/3 going into round four.
 
There were no big upsets in round four, except perhaps the draw in the game Chris Perkin v Alexander Bond. It looked to be heading for a fairly comfortable win for Chris, but in a bit of time trouble towards the end of the game he dropped a piece and had to take a draw by perpetual check.
Going into the last round, with the pre-tournament favourites having dropped points, there are nine players who could either take first place or a share of first place.
Fortunately the stormy weather didn't have a major impact on the last round of the tournament, only one player being unable to travel.
The final result was a tie for first place between Paul MacDonald and Andrew McHarg, with Paul taking the trophy on tie break. Paul is on something of a roll at the moment, having been successful in three consecutive tournaments. Four players, Jim Doyle, Richard Wiltshire, Jim Smalls and Ian Brownlee shared third place.
The under 1600 grading prize was shared by John Nicol and Steven McHarg, and the under 1300 grading prize was won by the only junior in the tournament, Alexander Bond.
Lanark Chess Club would like to thank all those who played over the last five weeks and who made Lanark's first open a success.
Ian McLachlan
Post Information
Posted on: 12-09-2011
Categories: News