Login
Upcoming Events
Adult Events
01/06/22 - 05/06/22 (5 day event)
02/06/22 - 05/06/22 (4 day event)
03/06/22 - 05/06/22 (3 day event)
01/07/22 - 03/07/22 (3 day event)
Junior Events
02/06/22 - 05/06/22 (4 day event)
Keti simul – Isle of Lewis
GM Keti Arakhamia-Grant reports on her simultaneous display in Stornoway: 
 "I was delighted to be invited by Calum Wallace to give a simultaneous display in Stornoway's contemporary An Lanntair gallery on 1 June. I love exploring Scotland, especially the Highlands and Islands. Beautiful Uig Bay is world renowned for the Norse chess pieces found there and I highly recommend a visit.
I found the 23 opponents I faced to be full of fighting spirit. Ultimately I had to resign to Alasdair MacLeod and upcoming Nicholson Institute pupil Poyi Law. Based on my experience, chess on Lewis has a bright future and I wish Calum well in his efforts to revive the chess club.
I'd like to thank the sponsors Robert Doig (Optician, Stornoway), James Lennie ("Goldcraft", Stornoway) and Roddy Murray (An Lanntair, Stornoway) and to express my appreciation to Calum for his organisation and enthusiasm in making this event a success."  
Keti will report further on her Lewis trip in the next issue of Scottish Chess magazine. The Stornoway Gazette has a short report.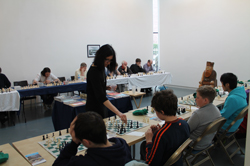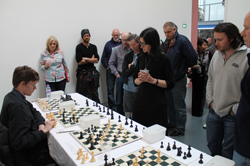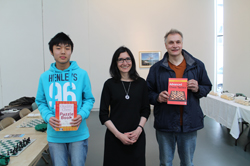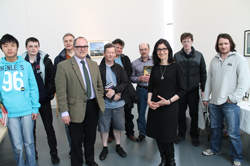 (l-r) Poyi Law (winner),Gwion ap Reinallt, Alasdair Macleod (winner), Robert Doig(Optician, Stornoway, and main sponsor), Roddy Murray, James Lennie ("Goldcraft", Stornoway, Sponsor), Calum Wallace (organiser), Keti, Andrew Newton, Seumas Macdonald.
Thanks to our main sponsors above plus Quality Chess for book prizes, Scottish Chess and Chess and Bridge for magazines. Calum Wallace
Post Information
Posted on: 05-06-2013
Categories: News