Login
Upcoming Events
Adult Events
01/07/22 - 03/07/22 (3 day event)
02/07/22 - 10/07/22 (9 day event)
15/07/22 - 17/07/22 (3 day event)
Junior Events
01/07/22 - 02/07/22 (2 day event)
18/07/22 - 21/07/22 (4 day event)
Jonathan Rowson Award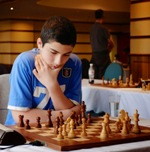 Murad Abdulla from Aberdeen has won the Jonathan Rowson Award for the top Scottish Boy chess player of 2013-2014.
On his ninth birthday Murad learnt how to play chess from his father and brother. He was first noticed after winning the NEJCA Ellon P5 & Under with a perfect 5/5. Since then, Murad has established himself as one of Scotland's top juniors.
In March 2014, aged 13 years and 4 months, Murad won the Glenrothes Open, becoming the youngest ever winner of that title and the youngest ever winner of an Open tournament in Scotland for many years. His TPR at that event was 2392.
He carried on this fine form by helping his club, Bon Accord, win the Richardson Cup. He personally scored 2.5/3. This made Murad the youngest winner ever of the Richardson Cup.
Murad ended the season by becoming the U/14 Commonwealth Boys Champion, scoring 6/9. He achieved this while also playing in the main Commonwealth Championships, where he scored 4.5 out of 9.
Still only 14, Murad is one to watch for the future.
List of previous winners
Adam Bremner, Andrew Green and Clement Sreeves.
Post Information
Posted on: 13-01-2015
Categories: Junior News, News