Login
Upcoming Events
Adult Events
01/06/22 - 05/06/22 (5 day event)
02/06/22 - 05/06/22 (4 day event)
03/06/22 - 05/06/22 (3 day event)
01/07/22 - 03/07/22 (3 day event)
Junior Events
02/06/22 - 05/06/22 (4 day event)
Jonathan Rowson Award – NEJCA 01 February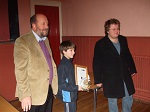 Euan Gray of North Juniors was presented with his Jonathan Rowson Award memento and certificate by the Chess Scotland President, Hamish Glen. The presentation took place at the NEJCA Adult Allegro and Junior Events held in Stonehaven on Saturday 01 February 2014. The trophy (to be kept for one year) will be handed to Euan at the NEJCA Keith Hoban Memorial Events to be held at Albyn School, Aberdeen on Saturday, 8 March. Please left click the image if you would like to see some quick snaps taken on 1 February.
More information on NEJCA and its sponsors is available on their website.
Arrangements are being finalised to present the Cherie Booth Award to Caitlin Reid of Paisley Chess Club. The presentation is currently scheduled for 12 February.
Posted by Membership Secretary
Post Information
Posted on: 02-02-2014
Categories: Junior News, News