Login
Upcoming Events
Adult Events
01/07/22 - 03/07/22 (3 day event)
02/07/22 - 10/07/22 (9 day event)
15/07/22 - 17/07/22 (3 day event)
Junior Events
01/07/22 - 02/07/22 (2 day event)
18/07/22 - 21/07/22 (4 day event)
Jonathan Rowson Award – 2010-2011
Ian McDonald from Aberdeen has won the Jonathan Rowson Award for the top Scottish Boy chess player of 2010-2011.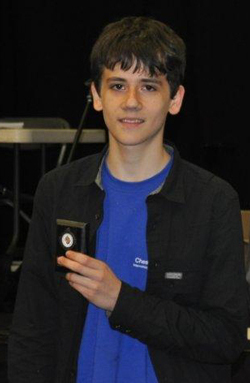 Ian McDonald won his first Chess Tournament aged 9 years and 2 months. This was in the under 950 tournament at the Fair City Tournament in Perth. Since then Ian has become an ever growing presence within Scottish Chess.
In May 2010 aged 14 years and 4 months Ian won the East of Scotland Championship becoming the youngest ever winner of that title and in finishing 1st equal with Alan Grant, the youngest winner of an Open Tournament in Scotland for many years. His FIDE rating performance at that event was 2372.
As well as playing for Scotland at junior Internationals Ian helped the younger members of the junior squad prepare by  setting up a training event for them on Playchess.com. Feedback from the parents was very positive. Ian has also helped NEJCA by being a coach on their training days.
Ian continues to represent Scotland in both team and International events.
Post Information
Posted on: 11-11-2011
Categories: Junior News, News