Login
Upcoming Events
Adult Events
01/07/22 - 03/07/22 (3 day event)
02/07/22 - 10/07/22 (9 day event)
15/07/22 - 17/07/22 (3 day event)
Junior Events
01/07/22 - 02/07/22 (2 day event)
18/07/22 - 21/07/22 (4 day event)
Jonathan Rowson Award 2015
The selection panel for the Jonathan Rowson Award has chosen Kai Pannwitz of Inverness as the recipient of the award for the top Scottish boy chess player for the 2014-15 season.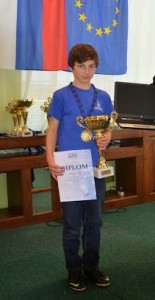 The selection panel comprised of GM Matthew Turner, GM Ketevan Arakhamia Grant, FM Clement Sreeves, WFM Elaine Bamber and Chess Scotland coach Andrew Green. In choosing Kai as the recipient of the award the panel commented -
"In a very strong field of candidates, the Panel had a difficult task in selecting the recipient of the Rowson Award. Highlights from the year included Craig Gillies impressive 400 point rating gain and Lennart Koehn's victory at the East Kilbride Open.
However, the Panel's choice for 2015 was Kai Pannwitz. Kai undoubtedly achieved the outstanding result in the 2014-15 season with his victory at the European Union U14 Championships. That remarkable performance combined with Kai's infectious enthusiasm make Kai a fantastic role model for junior chess in Scotland. The Panel wish to recognise his dedication and look forward to his continuing success."
Post Information
Posted on: 22-01-2016
Categories: Junior News, News