Login
Upcoming Events
Adult Events
01/06/22 - 05/06/22 (5 day event)
02/06/22 - 05/06/22 (4 day event)
03/06/22 - 05/06/22 (3 day event)
01/07/22 - 03/07/22 (3 day event)
Junior Events
02/06/22 - 05/06/22 (4 day event)
Glorney-Gilbert Round 5
[caption id="attachment_6190" align="alignright" width="300"]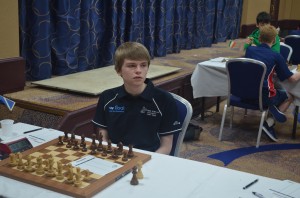 Lennart Koehn - Top scoring board 1 in the Glorney Cup.[/caption]
[caption id="attachment_6191" align="alignright" width="300"]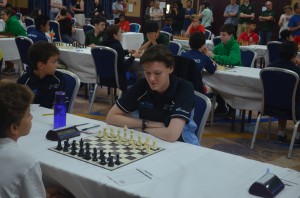 Rachel Smith - Top scoring board 4 in the Robinson Cup.[/caption]
[caption id="attachment_6192" align="alignright" width="300"]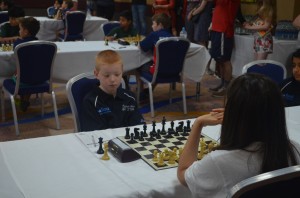 Dietah Connolly Sams - Joint top scoring board 5 in the Stokes Cup.[/caption]
Final Round (5)
Our last round against France saw some notable results: the Robinson team were a rather convincing 5 ½ - ½ for a respectable 3rd place overall, that could so easily have been even better.
I hope you'll forgive me singling out Rachel with an impressive 4.5 out of 5 despite drawing 3 blacks. For our top team, Lennart, on board 1, mirrored that exceptional performance – remarkable at this level.
The girls' play, again, was much better than the results suggest: Stuthi was looking excellent and almost certainly winning, and Caitlin's position was going very well until an unfortunate blunder. As ever, however, Caitlin dug-in and looked like drawing but in the end exhaustion probably got the better of us with only Stuthi again bringing home a half point. Overall, Sarah did very well for her first international scoring 1.5 overall and so was the top scorer. With just a little extra support, I'm confident the girls team can easily make a substantial leap forward for next year.
On the Stokes side, it was again evident that tiredness was a factor – several very promising positions simply didn't convert, this is a theme we saw repeated in several afternoon sessions. Of even more importance, however, it was great fun – there are smiles all round, very mature reflections, and much enduring enthusiasm.
So, given this is also my first Glorney, I should say that - in conjunction with some simply stunning results the week prior in the Scottish – it seems clear that some excellent coaching is going on. And while I know there are many, Andrew Green's name has popped up regularly, so well done to you and the others too! If we can overlay that with some simple coordination (for the squads), as per Hamish's checklists, then I feel we could be approaching and interesting inflection point.
Peter Smith
Post Information
Posted on: 20-07-2016
Categories: Junior News, News