Login
Upcoming Events
Adult Events
01/06/22 - 05/06/22 (5 day event)
02/06/22 - 05/06/22 (4 day event)
03/06/22 - 05/06/22 (3 day event)
01/07/22 - 03/07/22 (3 day event)
Junior Events
02/06/22 - 05/06/22 (4 day event)
Glorney Appeal – Updated 29 June 2014

To donate, the url is http://goo.gl/RgxR1x or, alternatively, left click on the chess table graphic.   The link listing and thanking donors is here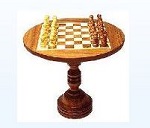 Chess Scotland hosts the 2014 Glorney international youth team tournaments at Stirling University from the 3rd to the 7th August, 2014. National youth squads from Ireland, Scotland, Wales and England will come together in three days of intensive and extremely competitive team chess.
As host nation this year, Chess Scotland is responsible for all the organisational expenses, with each nation paying for its own accommodation and transport costs.
In partnership with Scottish Junior Chess Association Educational Trust (SJCAET) we are appealing for additional funds that will be applied by Chess Scotland to reduce the accommodation and transport costs of the selected Scottish juniors. We believe that our most talented young players should be able to attend without having to consider their parents' ability to pay.
Any surplus will be used to support future youth international events. If you are a UK taxpayer, do please Gift-aid any donation.
Chess Scotland would like to thank the SJCAET is making a grant of £1,000 towards the event.
Originally conceived in 1948 as a Boys' tournament, the Glorney internationals now comprise Boys' and Girls' events (competing for the Glorney and Gilbert Cups) and two events for under-14s and under-12s (the Robinson and Stokes Cups). It is a great honour to play in these events. Going back to the 1950s, most of Scotland's top senior internationals look back on playing in these events fondly and with gratitude. Many former players have since actively supported the event, as donors, managers or coaches.
David Congalton, Finance Director
Post Information
Posted on: 29-06-2014
Categories: News