Login
Upcoming Events
Adult Events
01/06/22 - 05/06/22 (5 day event)
02/06/22 - 05/06/22 (4 day event)
03/06/22 - 05/06/22 (3 day event)
01/07/22 - 03/07/22 (3 day event)
Junior Events
02/06/22 - 05/06/22 (4 day event)
Gibraltar Masters 2013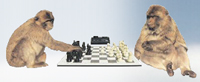 The 2013 Tradewise Gibraltar Chess Festival took place January 20-31 at the Caleta Hotel in Gibraltar. Russian GM Nikita Vitiugov took the winner's cheque of £20,000 in the Masters after defeating England's Nigel Short in a play off. 
The leading competitors this year were Vasily Ivanchuk (2758), Gata Kamsky (2740), Michael Adams (2725), Radoslaw Wojtaszek (2723), Maxime Vachier-Lagrave (2711), David Navara (2710), Alexei Shirov (2708), Le Quang Liem (2705) and last year's winner Nigel Short (2696).
Keti Grant scored 6/10, Alan Tate 4.5/10.
Post Information
Posted on: 01-02-2013
Categories: News