Login
Upcoming Events
Adult Events
01/06/22 - 05/06/22 (5 day event)
02/06/22 - 05/06/22 (4 day event)
03/06/22 - 05/06/22 (3 day event)
01/07/22 - 03/07/22 (3 day event)
Junior Events
02/06/22 - 05/06/22 (4 day event)
FIDE World Youth & Cadets Chess Championships 2015
31ST OCTOBER UPDATE FROM GREECE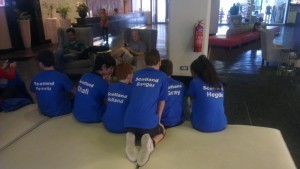 What a truly fantastic trip this is panning out to be.
There are just under 1500 kids here. A complete fusion of youngsters from all over the planet, blended together by a love of chess.
Our young folk are proving to be outstanding ambassadors for the game in Scotland. Working together, sharing ideas, helping one another with moves, tactics and plans.
We're halfway through the tournament, and it's great to see everyone now has a score on the door. The playing conditions are comfortable with plenty water. The security taskforce seem more than skilled at keeping eager parents out....didn't realise how necessary this was! There is no waiting area inside the hall, but the marina outside is lovely.
Sittin' on the Dock of the Bay...more Vic n Bob than Otis and Marvin.
Keti is doing an awesome job as coach. In fact, we're truly lucky to benefit from her knowledge. Making herself comfortable in the open area of the top floor at about 9.15am...Keti helps prep everyone (all 16 Saltire Stars), before heading off to the dining room for lunch after everyone else. She's so late, I don't know if the food is still palatable, or has it all gone cold and hard...?
.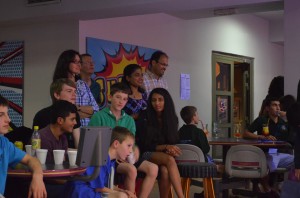 The games begin every day at 3pm, most of our players meeting in the foyer of the hotel to walk over together. Mark organised us all to meet together on the first day of the tournament, a lovely touch that we've carried on. That first day was a bit intense at the playing hall....a lane cordoned off down the middle for parents and picture takers...I was beginning to wonder if Elvis was in town.
It's getting dark when our weary warriors head back. All waiting for one another, they congregate on the top floor....Keti having met the first man, or woman home.
From about 6-9pm, Keti is there, going over the days play. I have witnessed a couple of homecomers really despondent after their battle, but with the team camaraderie amongst our Juniors, this doesn't have much staying power. It's really a wonderful thing to see the help and support given from our youngsters to their team mates.
Thank you to Mark for herding us all together, like the regular shepherd he is and sorting out fun stuff for the kids and to Vijay, if it wasn't for him there'd be no pics.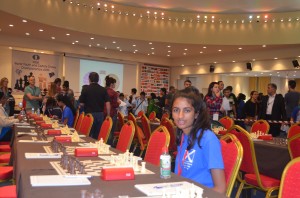 The World Chess Championship in Greece is set in the 5* Porto Carras. The food is very good and so are the rooms. The weather is not too hot, but not too cold, either...a very suitable temperature for playing chess! It's been such a great experience to go and play other people from different countries, and make new friends along the way.
STUTHI HEGDE
We are having a great time in Greece. Over the past 6 days not only have we been playing chess but we have also been doing other activities, mainly volleyball! The adults have got together and organised things we can do in our spare time. Kai
Hi it's Ben here it's been a great adventure so far and I've faced some really tough opponents. It took us 1 and 1/2 hours on the bus to get here. We are in a really big hotel with lots of activities and fun things to do. Most people think that the sea is too cold but not for us Scots, We've been in every day! The chess venue is about a 10 minute walk away and you have to go through another hotel. It's been a tough start but I'm looking forward to winning my next matches!
[gallery columns="2" ids="5399,5403,5406,5405,5407,5412,5409,5397"]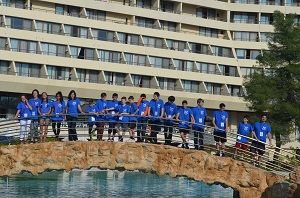 Round 1 Pairings for our young lions.
Bo. No. Name Rtg Name Rtg No.
Under 18 Open
44 102 Koehn Lennart 1888 v IM Jarmula Lukasz 2321 44
Under 16 Open
26 26 FM Tomczak Mikolaj 2372 v Abdulla Murad 2001 103
30 30 Janik Igor 2344 v Shafi Declan 1986 107
64 64 Kavon Rastislav 2183 v Underwood James 1664 141
68 68 Stauskas Lukas 2169 v D Costa Leston 1569 145
Under 14 Open
24 24 FM Brodsky David 2251 v Pannwitz Kai 1866 117
63 156 Gray Euan 1644 v FM Lee Qing Aun 2104 63
65 158 Smith Callum 1641 v Lagarde Dimitri 2099 65
74 74 Stanojevic Ilija 2037 v Dabos-Doukas Ioannis 1524 167
Under 12 Open
43 43 Wang Wesley 2032 v Volland Ben 1575 144
97 97 Pislaru Adrian 1809 v Sanger Jake M 0 198
Under 10 Open
42 42 Mastalos Iannis-Mihai 1775 v Hartman James 1310 134
Under 16 Girls
39 86 Espinosa Cancino Monica 1496 v Hu Yu A. 1944 39
42 42 Avetisyan Mariam 1936 v Reid Caitlin 1459 89
45 92 Hegde Stuthi 1343 v WCM Sapale Saloni 1927 45
Under 14 Girls
44 44 Coman Emilia-Florentina 1843 v Smith Rachel Lorna 1409 106
http://chess-results.com/tnr187413.aspx?lan=1&art=25&fedb=SCO&fed=SCO&turdet=YES&flag=30&wi=984
Porto Carros, Greece plays host to the World Youth & Cadets Chess Championships 2015, which takes place from Saturday, October 24th to Friday, November 6th. Scotland is sending a squad of 16 players to this luxurious 5 star Grand Resort to battle with the Titans of Junior chess from throughout the World.
In the Open Under 18 section Lennart Koehn of East Kilbride Chess Club is almost certainly guaranteed a titled player in round 1 but having earned results against titled players before this shouldn't phase the improving Lennart.
Our Open Under 16's will also face tough and challenging opening round opponents but Murad Abdulla (Bon Accord), Declan Shafi (Castlehill) and Jamie Underwood (Edinburgh) have all played at this level before and will be able to pass their experience on to Leston D'Costa (Bon Accord).
Monica Espinosa Cancino (Girvan) and Caitlin Reid (Paisley) have played in tournaments like this and Stuthi Hegde (Edinburgh) has experience from the Glasgow Commonwealth Championships as well as the Scottish Open. Monica recently performed well at the European Youth Chess Championships in Croatia.

Jake Sanger (Prestwick) and Callum Smith (North Juniors) are also doubling up, having played in Croatia last month. Jake joins Ben Volland (Dunfermline) in the Open Under 12's, while Callum is one fifth of our under 14 participants.
Kai Pannwitz (Inverness), who won the EU Youth Boys Championship last year will hope to play at a similar level to his EU Youth performance. Euan Gray (North Juniors) and Ioannis Dabos-Doukas (Edinburgh) will be looking to perform to their potential in the Open Under 14.
Rachel Lorna Smith (Prestwick) is the fifth under 14 travelling to the shores of the Aegean Sea. This quiet, thoughtful young lady is entirely capable of upsetting the odds and opponents who underestimate her do so at their own risk.
Last but certainly not least is James Hartman who is our sole representative at under 10 level. This Tiger Cub has drawn with 1600+ players before and has the potential to be a Scottish Internationalist for years to come.
The Scotland Juniors will be supported at the event by GM Ketevan Arakhamia-Grant, who will be able to bring a wealth of experience, including that of playing in the World Women's Championships, to help the squad cope with the ups and downs of a World Championship event.
Good luck to all our participants. Play well, enjoy the experience and proudly represent Scotland.
Come the start of play on Sunday, let's hear the sluagh-ghairm of Scotland 'Wha daur meddle wi' me" roared out so loud that it wakens Zeus and the rest of the Greek Gods on Olympus
Post Information
Posted on: 24-10-2015
Categories: Junior News, News