Login
Upcoming Events
Adult Events
01/06/22 - 05/06/22 (5 day event)
02/06/22 - 05/06/22 (4 day event)
03/06/22 - 05/06/22 (3 day event)
01/07/22 - 03/07/22 (3 day event)
Junior Events
02/06/22 - 05/06/22 (4 day event)
FIDE World Youth & Cadets Chess Championships 2015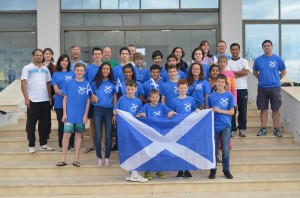 My first trip with the Scottish juniors leaves me with memories I will cherish for many years. I hope our young talents learned a lot from the experience, I certainly did.
The World Youth Championships is a group of individual tournaments but it felt like a team competition! Our juniors really tried their best and not only during their matches:
• In advance they helped each other during the preparation by sharing ideas and knowledge.
• During the games I saw them rooting for their friends and checking each other's positions.
• After the rounds they supported each other and celebrated the day's successes.
It was a real squad effort with parents joining forces to play an invaluable supporting role, especially by providing entertainment and physical activities to suit everybody's abilities and taste that helped them relax.
I loved working with the big group but it was a real challenge for me to fully prepare 16 players. My work consisted of checking each opponent the night before and preparing databases; directing the juniors on opening and practical matters in the morning session; following their games in the hall for a period each day to get a sense of how they worked at the board and then analysing their games with them in the evening. Just not enough hours in the day - I wish I'd had more time to devote to each individual player.
Helpfully, after the first two rounds, Mark prepared our 3 youngest players separately which meant they received a bit more time and attention. Mark organised the squad so well plus provided me with support and understanding. Thank you!
I am very proud of our players. I hope everyone enjoyed themselves and returned home with happy memories. I am sure they will have success in the future if they
continue to work hard on their chess!

Keti Arakhamia-Grant
Post Information
Posted on: 08-11-2015
Categories: Junior News, News