Login
Upcoming Events
Adult Events
01/06/22 - 05/06/22 (5 day event)
02/06/22 - 05/06/22 (4 day event)
03/06/22 - 05/06/22 (3 day event)
01/07/22 - 03/07/22 (3 day event)
Junior Events
02/06/22 - 05/06/22 (4 day event)
European Blind Championship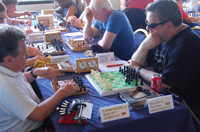 Stephen Hilton of Inverclyde CC took part in the 5th IBCA European Individual Championship on the island of Rhodes, in Greece from September 5-16.
Stephen scored 4.5/9.
1/ W Sergey Wassin Ukraine 0
 
2/ B  Dmitrios Ntovas Greece 1
 
3/ W Vlatko Marendic Croatia 0
 
4/ B Jozefa Spychala Poland  1
 
5/ W  Sergey Krylov Russia  0
 
6/  B Alfred Gromme Switzerland  1
 
7/ W  Alexandru Pirosca Rumania 1/2
 
8/ B  Anton Lindenmair Germany  0
 
9/ W Werner Kranz Germany  1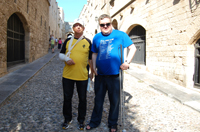 Stephen with world braille champion Yuri Meshkov in cobbled streets of Rhodes.
Stephen meets Yugoslav great Svetozar Gligoric in Belgrade.
Post Information
Posted on: 04-10-2011
Categories: News