Login
Upcoming Events
Adult Events
01/06/22 - 05/06/22 (5 day event)
02/06/22 - 05/06/22 (4 day event)
03/06/22 - 05/06/22 (3 day event)
01/07/22 - 03/07/22 (3 day event)
Junior Events
02/06/22 - 05/06/22 (4 day event)
Euro Team Championship

Scotland top boards Alan Tate and Graham Morrison both recorded IM norms at the European Team Chess Championship which took place in Porto Carras, Greece.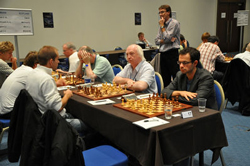 Scotland players had a successful performance with three players  above rating and two level.
The team finished in line with initial seeding. Tenth seeds Germany defeated double Olympiad champions Armenia in the final round to take the championship.
Norms: Three norms plus a 2400 rating are required for IM status. Alan now has four and Graham three. (Neil Berry two).
Preview: 38 countries participate in the open section, with 135 GMs and 175 titled players.
Scotland is represented by:
FM Alan Tate
FM Graham Morrison
IM Andrew Muir
CM Paul Roberts
Martin Mitchell
Post Information
Posted on: 12-11-2011
Categories: News