Login
Upcoming Events
Adult Events
01/06/22 - 05/06/22 (5 day event)
02/06/22 - 05/06/22 (4 day event)
03/06/22 - 05/06/22 (3 day event)
01/07/22 - 03/07/22 (3 day event)
Junior Events
02/06/22 - 05/06/22 (4 day event)
Euro Senior – Portugal
14th European Senior Chess Championship took place in Oporto, Portugal 8-22 March, 2014. Website
GM Keith Arkell of England took top spot with 7/9.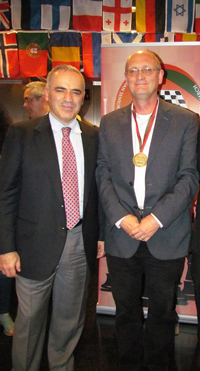 Scot scores: Craig Pritchett 5.5/9, Philip Giulian 4/9 and Douglas McKerracher 3.5/9.
Craig pictured right after receiving his 8th place medal from Garry Kasparov.
The organizer of the Championship was the Portugese Chess Federation, under the auspices of the European Chess Union.
The official venue of the tournament was Axis Porto Business & Spa Hotel 4*. Oporto, also known as Porto, is the second-largest city in Portugal, after Lisbon, and is one of the oldest European centres, registered as a World Heritage Site by UNESCO in 1996.
Post Information
Posted on: 22-03-2014
Categories: News