Login
Upcoming Events
Adult Events
01/06/22 - 05/06/22 (5 day event)
02/06/22 - 05/06/22 (4 day event)
03/06/22 - 05/06/22 (3 day event)
01/07/22 - 03/07/22 (3 day event)
Junior Events
02/06/22 - 05/06/22 (4 day event)
Critical Moments training seminar
Learn with Scottish Champion Keti, 9 to 11 June
https://www.chessscotland.com/news-post/critical-moments-training-seminar/
Following a successful Fighting Chess seminar last year (more information here) Edinburgh Chess Club will host an event presenting the opportunity to learn from current Scottish Champion GM Keti Arakhamia-Grant and former Scottish Champion Jonathan Grant. The latest seminar in the series will take place from Friday 9 to Sunday 11 June 2017. Full details and entry form available here.
3-time winner Keti with the Scottish trophy, Glasgow 2016
*****
Critical Moments training seminar
Identifying the critical moment in chess is a difficult skill, problematic even for the strongest GMs. Such opportunities may happen only two or three times a game but can make the difference of an extra half or full point. This training event is intended to help you sense better when the moment has arrived and decide how to act.
The primary focus will be on practical application through solving exercises and playing positions after following demonstrated examples. Aimed at all aspiring players prepared to work hard on improving their game, up to titled level.
The husband and wife duo, both FIDE trainers, aim to help players adopt proven methods of thinking for approaching critical moments. It is a subject that has had far less attention in chess theory over the years than it deserves. Jonathan will lay out the theoretical aspects and Keti will share her practical experience and insights from competing against Grandmasters over many years. Examples are selected for their inspirational as well as educational value so attendees can enjoy a wealth of fantastic chess.
*****
Photos from previous seminars at Edinburgh Chess Club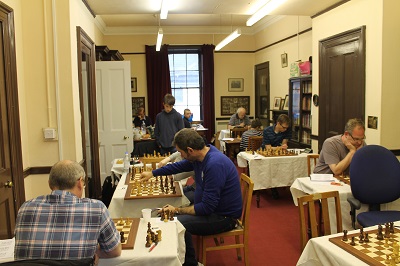 Solving examples

Keti demonstrating a model game
Post Information
Posted on: 30-05-2017
Categories: News