Login
Upcoming Events
Adult Events
01/06/22 - 05/06/22 (5 day event)
02/06/22 - 05/06/22 (4 day event)
03/06/22 - 05/06/22 (3 day event)
01/07/22 - 03/07/22 (3 day event)
Junior Events
02/06/22 - 05/06/22 (4 day event)
Chessity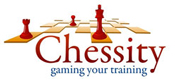 I am delighted to announce a partnership between Chessity and ChessScotland. As a part of this partnership Chessity will provide a group discount to Scottish players.
Chessity is a tactics trainer site that allows users to train their tactics by playing games, but to progress in the games you have to solve tactics. It also incorporates the famous Steps method used by the Dutch to teach their world-beating juniors. The site is clean, easy to use and in my opinion the best tactics trainer available in the net. The site is not limited to the computer either and it is possible to train using smart devices. 
It is free to sign up and you can try the site out for yourself at www.chessity.com. To get the full benefits of the site you have to become a premium member. If the following targets are hit the cost will be as follows to Scottish chess players:
| | |
| --- | --- |
| Number of users: | Premium member price: |
| 1 member and normal price | 35 euro |
| 10 – 100 members | 18 euro |
| 100 – 1000 members | 15 euro |
| 1000 – 5000 members | 12 euro |
If you are interested in this discount and would like a premium account for a year, please send an email to andrew.d.green@me.com before the 10th of October, 2013. I highly recommend this site and hope you all enjoy it.
Andrew D Green
Post Information
Posted on: 24-09-2013
Categories: News