Login
Upcoming Events
Adult Events
06/08/21 - 08/08/21 (3 day event)
03/09/21 - 05/09/21 (3 day event)
01/10/21 - 03/10/21 (3 day event)
05/11/21 - 07/11/21 (3 day event)
03/12/21 - 05/12/21 (3 day event)
Junior Events
Chess in the Park 2018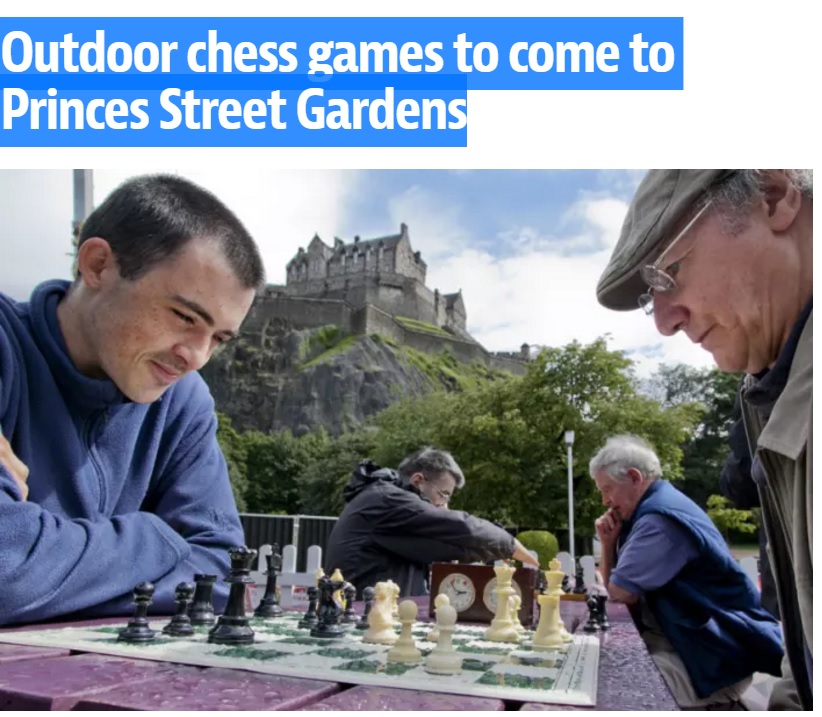 June 2018: Following last year's successful experiment in challenging Scotland's weather outdoor chess will continue at Princes Street Gardens in Edinburgh.
From Sunday 1 July there will be open air chess games held on both Thursdays and Sundays between 2 - 5 pm.
Chess in the Park will be featured in an article by Sean Marsh in next month's Chess magazine which also covers the Edinburgh Congress and the free Training Sessions provided by Chess in Schools and Communities.
Download the Chess pdf.
***
Chess in the Park every Thursday and Sunday afternoon from 2.00 pm at the Fountain Cafe, West Princes Street Gardens.
"There is no charge and the only requirement is that each player attending, if possible, brings with them a Chess Set and a Chess Clock." David Stewart
Post Information
Posted on: 22-06-2018
Categories: News