Login
Upcoming Events
Adult Events
01/07/22 - 03/07/22 (3 day event)
02/07/22 - 10/07/22 (9 day event)
15/07/22 - 17/07/22 (3 day event)
Junior Events
01/07/22 - 02/07/22 (2 day event)
18/07/22 - 21/07/22 (4 day event)
Chess in the Park 2022
May 2022:
Chess in the Park at the Fountain Cafe in Princes Street Gardens starts for the season on Thursday 5 May 2022, 2 – 5 pm every Thursday and Sunday.
Sets and clocks will be available on site.
***
August 2021: 
After a twenty-two months absence, it is back!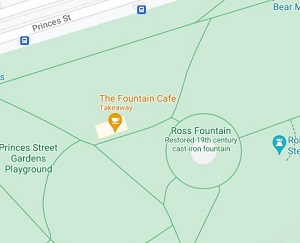 Chess in the Park - Princes Street Gardens
Our Opening Day is Thursday 2 September 2021, the first Thursday after the Edinburgh Festival, until the Sunday 31 October 2021, when BST ends,
Chess in the Park, twice a week on a Thursday and Sunday from 2 – 5 pm at the Fountain Cafe, underneath Edinburgh Castle and next to the Ross Fountain, West Princes Street Gardens.
Free of charge at the best Chess in the Park site in the World!
Should anyone attend, please support the Cafe in which we indebted to the Scott family for their continued support.
We have ten sets and clocks on site, although you can bring your own especially on the Opening Day.
For players from other parts of Scotland should you travel by train on a Sunday, you receive Off Peak Fares, without any time restrictions.
All abilities catered for, from novice to International level and of all ages.
Our normal rate of play is ten minutes each, or you can play without a clock.
You can stay for as little or as long as you want.
An open invitation to anyone that is available or come in a group.
David Stewart
*****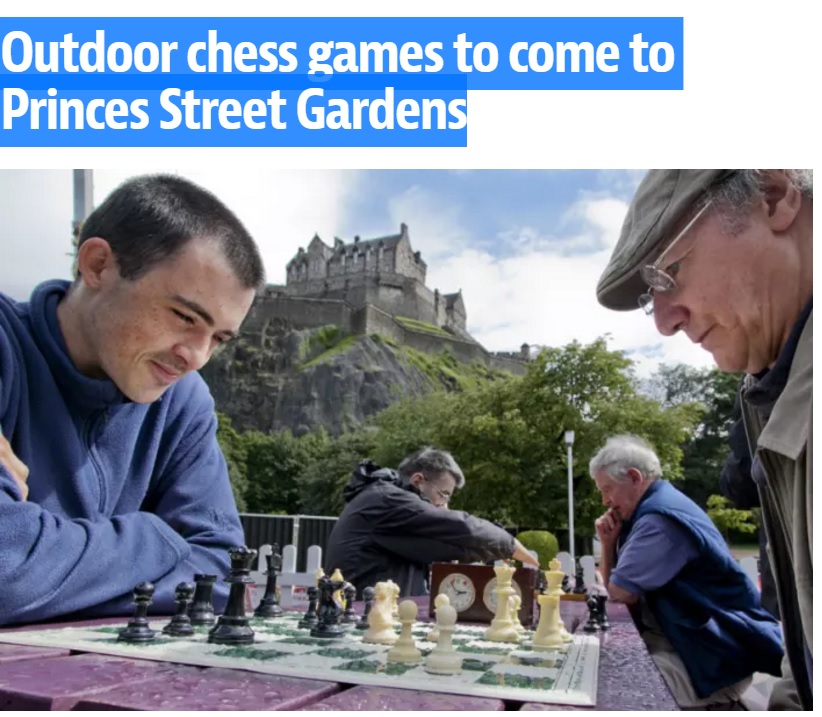 June 2018: Following last year's successful experiment in challenging Scotland's weather outdoor chess will continue at Princes Street Gardens in Edinburgh.
From Sunday 1 July there will be open air chess games held on both Thursdays and Sundays between 2 - 5 pm.
Chess in the Park will be featured in an article by Sean Marsh in next month's Chess magazine which also covers the Edinburgh Congress and the free Training Sessions provided by Chess in Schools and Communities.
Download the Chess pdf.
***
Chess in the Park every Thursday and Sunday afternoon from 2.00 pm at the Fountain Cafe, West Princes Street Gardens.
"There is no charge and the only requirement is that each player attending, if possible, brings with them a Chess Set and a Chess Clock." David Stewart
Post Information
Posted on: 01-05-2022
Categories: News