Login
Upcoming Events
Adult Events
01/06/22 - 05/06/22 (5 day event)
02/06/22 - 05/06/22 (4 day event)
03/06/22 - 05/06/22 (3 day event)
01/07/22 - 03/07/22 (3 day event)
Junior Events
02/06/22 - 05/06/22 (4 day event)
Chess Essentials to sponsor Grand Prix
Chess Scotland are pleased to announce that the Chess Essentials bookstall run by Howard Wood will sponsor the Grand Prix book prizes this season 2016-2017. The CE bookstall has been present at several events on the Scottish circuit over the last year. Meet Howard at a congress soon.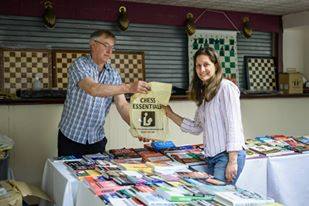 Chess Essentials is based in Halifax, Yorkshire. The business has a friendly and understanding approach to customers. We try to provide top quality items such as scorebooks, Dvds, chess books, DGT clocks and equipment, chess sets and boards also novelties all at affordable prices. Chess Essentials is the official chess stall for South Wales Chess. We also cover junior events where possible in England - some of our junior items were donated to Chess Scotland for the junior training camp in 2016 pre-Glorney Gilbert Cup Tournament.
We also sell rare chess items on Amazon uk
Contact via email: chessbooksuk@hotmail.co.uk
or tel 01422 292 392 and speak to Howard or Caroline.
or text 07914885976 and I will get back to you.
Post Information
Posted on: 06-10-2016
Categories: News