Login
Upcoming Events
Adult Events
01/06/22 - 05/06/22 (5 day event)
02/06/22 - 05/06/22 (4 day event)
03/06/22 - 05/06/22 (3 day event)
01/07/22 - 03/07/22 (3 day event)
Junior Events
02/06/22 - 05/06/22 (4 day event)
Cherie Booth QC Award – 2010-2011
Ali Roy of Carrick has won the Cherie Booth Award for the Scottish Girl Player of 2010-2011.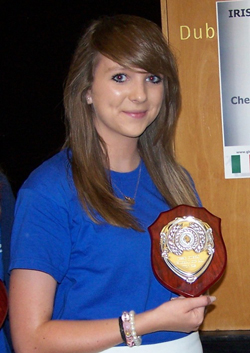 Ali Roy last won this award in the season 2007/2008 & had also won it jointly with Louise McNab the previous season 2006/2007.  Since then she has continued with her successes and became the British Junior U15 Girls Champion in August 2010.
Ali was part of the 2010 Faber Cup Team who played in Wales, coming second by a very close margin that was dependent on the last game to finish.  She had been part of the winning team the previous year whenScotlandhosted the event.
Over the past year Ali has continued to represent Scotland and attended the World Youth Championships held in Halkidiki,Greece where her best result was a win against an opponent graded 2037.  She also was in the winning U16 team at the annual Liverpool Quadrangular in December 2010.
Post Information
Posted on: 11-11-2011
Categories: Junior News, News