Login
Upcoming Events
Adult Events
01/07/22 - 03/07/22 (3 day event)
02/07/22 - 10/07/22 (9 day event)
15/07/22 - 17/07/22 (3 day event)
Junior Events
01/07/22 - 02/07/22 (2 day event)
18/07/22 - 21/07/22 (4 day event)
Cherie Booth Award 2015
The selection panel for the Cherie Booth Award has chosen Rachel Lorna Smith of Ayr as the recipient of the award for the top Scottish girl chess player for the 2014-15 season.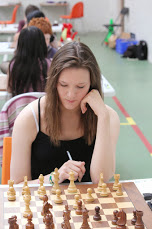 The selection panel comprised of GM Matthew Turner, GM Ketevan Arakhamia Grant, FM Clement Sreeves, WFM Elaine Bamber and Chess Scotland coach Andrew Green. In choosing Rachel as the recipient of the award the panel commented
"There were a number of outstanding candidates for the Booth Award, who have made a huge contribution to Scottish Chess. The Panel particularly noted the achievement of Caitlin Reid in winning the Oban Major. However, the Panel's choice for 2015 was Rachel Lorna Smith. Rachel has gained almost 300 points in 2015, a remarkable feat in itself, but made doubly impressive when it comes after a similar gain in 2014. Rachel has competed in a wide breadth of events and provided a very positive image of Girls' Chess in Scotland. The panel were deeply impressed by the creativity of Rachel's play and look forward expectantly to her continuing her rise through the rankings."
Post Information
Posted on: 22-01-2016
Categories: Junior News, News