Login
Upcoming Events
Adult Events
01/06/22 - 05/06/22 (5 day event)
02/06/22 - 05/06/22 (4 day event)
03/06/22 - 05/06/22 (3 day event)
01/07/22 - 03/07/22 (3 day event)
Junior Events
02/06/22 - 05/06/22 (4 day event)
Carlsen retains World title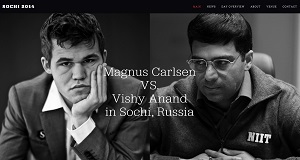 The World Chess Championship Match between World Champion Magnus Carlsen and Challenger Viswanathan Anand took place in Sochi, Russia, November 7–25, 2014.
Carlsen took an unassailable 6.5-4.5 lead by winning the 11th game, the final 12th game not played. Anand proved a much tougher challenger than pre-match forecasts suggested. A stunning double blunder in game 6 allowed Carlsen to take the lead when Anand missed a simple trick by which he could have forced a winning position.
The official website was excellent and offered entertaining live commentary by top GM Peter Svidler although he did tend to talk over his co-host. 
This was a reprise of the 2013 match when Carlsen took the title by defeating Anand 6.5-3.5 in Chennai, India. Despite his stellar career Anand was considered a surprise winner when he won the right to challenge Carlsen by winning the Candidates tournament in March.
Post Information
Posted on: 23-11-2014
Categories: News